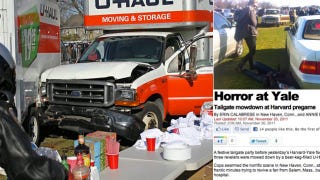 NEW HAVEN, Conn.—I could tell you about dropping by the Yale crew alumni tailgate on Saturday, and taking a shot of Jim Beam with a slice of prosciutto, but that's not the reason the Game's 2011 tailgate will forever be the Tailgate. We'll now call it the Tailgate because three women there got run over by a U-Haul, and one died.
I went to a dinner about a year ago with the kid who was driving the U-Haul on Saturday. He's a good friend's good friend. He was quite friendly, not the fratty type you might imagine. You probably won't believe me when I write this, because people always say this after something bad happens, but, really, one would never have expected this kid to be involved in this thing. What exactly happened we still don't know—I heard whispers of a brake malfunction, and the driver's lawyer hinted similarly on Sunday. I wasn't there to see the accident happen, although cop cars and motorcycles sped past me on Chapel Street while I walked to the game.
Usually, when something tragic happens in a space full of drunk people, the crowd immediately disperses, wary of an oncoming moral reckoning. The party ends. You wallow. But the party had just begun at 10 a.m. on Saturday, when the U-Haul did its thing. We couldn't go home, we couldn't slow down. We had come so far.
My party had started much earlier, at 6:50 that morning, when I, wearing three layers and armed with a flask of cheap bourbon, hopped in a cab to 125th Street Station in Manhattan. Crimson-clad young adults filled the dim station, with a handful of Yale folks thrown in for good measure. Metro-North rarely sees such bone structure. Our car was standing-room only, with mostly Harvard kids filling the train's aisles and vestibules, hugging old friends and passing around bottles of red wine. One young couple next to me was trying to plan brunch at Yale's Elizabethan Club—per Wikipedia, "The club is dedicated to conversation, tea, the art of the book, and literature, focused on—but not exclusively of—the Elizabethan era." (I heard later in the day that the Lizzie had nice breakfast sandwiches but no champagne.) Another 20s couple bemoaned that they had spent all night at a producers' party for the Godspell revival. They got barely any sleep.
Everyone on the train was abuzz about the kids they hadn't seen and the tailgates they planned to hit. They worried a little, as did I, about how they might find their way to the Yale Bowl, which sits over a mile from Yale's campus, has next to no parking, and is accessible by few roads. Word soon spread that there would be shuttles. And the train party ebbed a bit when ten Long Island bros rolled in from a forward car. They had three or four 30-packs of Bud Light between them, and only one Yale sweatshirt (purchased earlier that week), equaling their group's number of Hofstra sweatshirts. (I knew they were ringers from the moment they cogently discussed what had happened in the Iowa State-Oklahoma State game on Friday night.) They soon took a couple of Asian girls in Harvard gear under their oil-slicked wings. I saw them later at the tailgate, a few hundred yards removed from the student section, with some new girls and more beer.
The Game is, after all, an inclusive affair. For all the hemming and hawing about some Harvard types' dumb "We are the six percent" mesh pinnies, I got into the student tailgate. (Not so long ago, I was rejected from both Yale and Harvard.) The rent-a-cops weren't asking for school IDs at the student tailgate checkpoint. They only wanted state IDs to see if you were of age, at which point you'd get a lime-colored wristband for drinks. Anyone could come, despite the fences surrounding the student area. That's why there's nothing too surprising about the news that the woman who died in the student tailgate was a 30-year-old costume designer from Salem, Mass., with no connection to either school. The Game sucks people in like that.