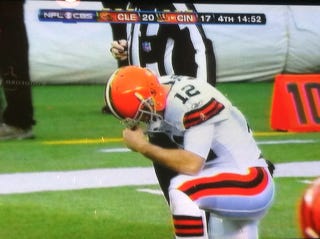 Colt McCoy does his best accidental Tebow while the real Tebow needed extra time to work his magic. Stevie Johnson gave us all a laugh and later made it up to Jets fans. In no particular order, here's your Sunday roundup. Enjoy.
Houston 20, Jacksonville 13: You know you are a doomed franchise when the one guy who owns your division is gone for the year and you actually put a decent season together but you continually have injuries at key positions. Matt Leinart wasn't going to win any league MVP awards (nor Schaub) but you can't feel good about making much noise this year as a Texans fan.
NY Jets 28, Buffalo 24: Sanchez had one of those games that will be talked about a lot: four touchdowns, the last of which was the game winner inside the two minute warning made possible by a couple big throws earlier in the drive. But, as a fan, I had absolutely no confidence in that happening even though those late game heroics are basically the only things in the "pros" column of his short career. There's still time, but I'm slowly moving over to the "This Is Not The Guy" side of the Sanchez fence. Oh, and he got a huge assist from Stevie Blunder (patent pending) on the Bills final possession.