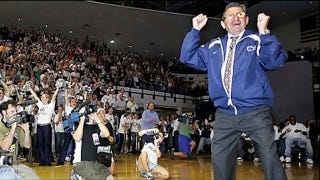 One might be tempted to say this thickens the plot, but let's resist temptation and merely state the facts: When Mike McQueary told Joe Paterno in 2002 that he'd seen Jerry Sandusky raping a 10-year-old boy in the shower, Paterno was in business with longtime Second Mile board chairman Robert Poole to build a $125 million luxury retirement community called "The Village at Penn State." The development group had just secured financing and was filing for building permits and beginning to market units when McQueary approached Paterno, according to The Daily's Sarah Ryley, who did some excellent sleuthing here:
Pinnacle Development, one-half of the developer team that built The Village at Penn State, included Paterno, Poole, William Schreyer—a Penn State trustee whose daughter is a longtime board member of The Second Mile—and local developer Philip Sieg.

Each partner stood to make an estimated $590,000 in fees and 15 percent annual interest on an $125,000 initial investment if the project was successful enough to get funding for a second phase.

It wasn't. The Village's nonprofit owner filed for bankruptcy on Wednesday. The filing indicated that Pinnacle was never repaid its initial investment, and that $18.8 million was owed to residents who moved out and demanded refunds on their entrance fees.
Some background on Poole: He runs Poole Anderson Construction, one of the biggest independent contractors employed by Penn State. In 2009 and 2010, Poole's company received $25,091,245 from PSU. His company is also the construction manager for the $11.5 million "Center for Excellence," a Second Mile project that had long been a dream of Sandusky's and was to be financed in part by a $3 million state grant approved by Gov. Tom Corbett, who was the attorney general who oversaw the investigation of Sandusky. (To note: Poole gave $9,133.34 to Corbett's gubernatorial campaign. He also raised money for Leslie Dutchcot, the district judge and Second Mile volunteer who let Sandusky out of jail on unsecured $100,000 bail. Dutchcot has since been taken off the case.)