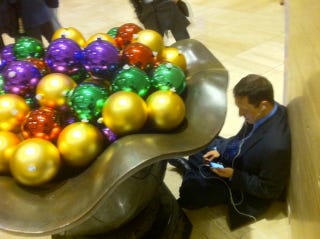 Your roundup of all the hottest hot-stove items of the day. Photo via @joecapMARLINS. This is ... HOT FUCKING STOVE!!
• Albert Pujols probably won't be a Marlin after all. The rumors were fun while they lasted, but I think deep down we all knew this day was coming. Pujols and his agent are said to be spending today milking every possible cent from St. Louis, but the Marlins are "moving on emotionally," whatever that means.
• Everyone seems to be pretty sure the Angels are the "mystery team" courting Pujols, with one notable exception.
• The Marlins did find someone who would take their money. Mark Buehrle, welcome aboard.
• More Marlins news. Hanley Ramirez is upset about having to move to third, and he supposedly wants more money for his troubles. Buster Olney (shirtless, we presume) speculates that Miami could try to deal Ramirez and use the money it would save on Prince Fielder.