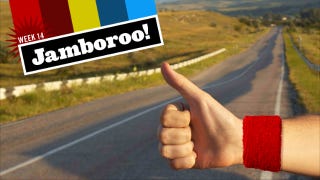 Drew Magary's Thursday Afternoon NFL Dick Joke Jamboroo runs every Thursday during the NFL season. Buy Drew's new book, The Postmortal, through here. Find more of his stuff at his Twitter feed.
The NFL is about to secure new TV deals with all of its broadcasting partners, deals that could net the league over a billion dollars per year from EACH network. This means a couple things. First off, your cable bill is gonna get awfully rapey. Secondly, the final piece is in place for the league to begin shuffling around its low-rent franchises. With a long-term labor contract in place and unfathomable sums of TV money pouring until 2021, the Ginger Hammer now has the stable environment needed to start moving around any NFL team that has a shitty stadium situation. Here are the potential teams that could be involved:
• Chargers
• Vikings
• Bills
• Raiders
• Rams
• Niners
• Bucs
• Panthers
The Jags don't make this list because new owner The Iron Sheik (THASS RAYCESS!) is locked into a lease that keeps the team in limpbizkit headquarters through 2030. WHOOP DEE! The Bucs and Panthers both play in relatively new stadiums, but because NFL owners are greedy cunts, they make this list because apparently having your own stadium with a fucking PIRATE SHIP THAT SHOOTS CANNONBALLS simply isn't good enough for the Malcolm Glazers of the world. The Vikings have already started eye-banging Los Angeles and some other mystery city they won't identify (WICHITA!). The Bills have made Toronto their mistress. The Niners are on the verge of moving to Santa Clara, provided the city ponies up $850 million, which I'm sure is totally a good deal for local taxpayers. The beginnings of the migration have already begun. Now, with this new TV deal, they're about to bust wide open. Every move you've long suspected was on the verge of happening WILL happen.
Once the season ends, shit is gonna hit the fan. I promise you at least one team will announce its intention to move this offseason, with many more following suit. In 10 years, you could have the following teams:
• LA Chargers (NFC West, switching conferences with the Seahawks)
• Toronto Bills (AFC East)
• LA Raiders (AFC West)
• San Antonio Vikings (NFC South)
• San Francisco 49ers of Santa Clara (AFC West)
• Mexico City Rams (NFC West)
• London Bucs (NFC South)
• Oklahoma City Panthers (NFC North)
The odds of all of these teams relocating is unlikely. But it only takes three or four them moving to alter the NFL landscape dramatically. Of course, this means little for you, the NFL viewer at home. At this point, it doesn't really matter where NFL teams are located because we follow them in such impersonal ways: On TV, through fantasy football, etc. They could put all 32 NFL teams in one town (Again, Peter King says WICHITA!) and I'd still watch it all the time. The televised game is bulletproof to provincialism at this point.
But if you're the sort of naif who likes going to games in person (sucker), and you dread the idea of your hometown team packing up and moving to some Megatardmall in the middle of LA, the day of reckoning is at hand. Roger Goodell has a legacy he wants to cement (apart from fining players arbitrarily and being Peter King's top), and that means being the guy who brought the NFL back to LA and to points abroad. He now has everything he needs in place to make that happen.
The Games
All games in the Jamboroo are evaluated for sheer watchability on a scale of 1 to 5 Throwgasms.
Five Throwgasms
Giants at Cowboys: I was in Milwaukee last week when I realized that I had forgotten to pack socks for my trip. I realized this only after I had just worked out, so I took the hair dryer in the hotel room and blow dried the sweat out of my socks. And the smell produced by blow-dried used socks is quite something. If you ever have house guests who stay too long and you want those fuckers to leave, blow dry a used sock. Like someone fisted your nostril and just kept it there.
Four Throwgasms
Texans at Bengals: I have a new way of referring to your fantasy roster from here on out. Anytime someone brings up a player you own in fantasy, what's the first you thing you say? "Oh, I have him/own him in my fantasy league." I submit that you should answer that you are his head coach instead. "Oh, Andy Dalton? I'm his head coach. Great kid. I fought like hell in the war room for us to land him." May as well go all the way with the fantasy.
Three Throwgasms
Bears at Broncos: I was in Chicago last week and I went out with a friend to a restaurant called the Purple Pig. For eight bucks, you can order this dish (language copied directly from the menu):
Pig's Ear with Crispy Kale, Pickled
Cherry Peppers & Fried Egg
People, eight bucks isn't a lot of money. I've never gotten out of a Chipotle paying less money. And for eight bucks, I damn near pulled a Meg Ryan in front of the whole restaurant. In fact, six hours after I ate this at dinner, I went BACK to the same restaurant (while shitfaced) and ordered it again. Nothing else. Not even a drink. I sat at the bar, asked for the pig's ear, threw down ten dollars, and went to Pleasuretown. ALONE. No one else was there to witness the moment. It was all mine. Just me and that ear.
We gentlemen talk about spank banks any chance we get, but I'm going to open up a new wing of my brain for future use: THE FOOD SPANK BANK. It will contain this fried pig's ear, along with the combo sandwich and cake shake I ate at Portillo's for lunch that same day. They blend a piece of cake RIGHT INTO THE FUCKING SHAKE. Reader Fred went out of his way to alert me to the following fact about the cake shake:
Secret ingredient in Portillo's Famous Chocolate Cake? That's right...mayo.
WAY TO FUCKING RUIN IT, FRED. Whatever. That shit was INSANE. A week later, and I am still positively AGLOW from my one-day affair with cake shakes and pig's ears. The food spank bank is perhaps the most crucial spank bank I invest in.
Bills at Chargers: One other note about Chicago (which is my favorite city in the universe): I was at that restaurant late at night and I was sitting by myself at the bar. Three people down from me, there was this drunken lady who was hitting on a dude in a suit. He was there with a friend and they were enjoying a leisurely dinner, and this girl wouldn't leave him alone. At one point, she took the serving spoon from one of the dishes they'd ordered and stirred their food around for them. Then she loosened his tie for him. He looked visibly uncomfortable to be hit on so openly. I was hypnotized. I just kept waiting for him to throw caution to the wind and bring her to the bathroom for three sloppy hot minutes, but NO! He stood his ground and withstood the assault. I simulataneously admire and despise any single man who so willingly turns down a free lay.
Raiders at Packers: FUCK YOU, NFL.com. Every time you click on a GameCenter at NFL.com, a 30-second ad pops up and you aren't allowed to skip it. And there's no "disable audio" button either. I HATE YOU, ROGER GOODELL. Even ESPN, which leads the world in intrusive, horrible promotion techniques, hasn't stooped this low. I hope someone keys your Town Car.
Saints at Titans: Am I the only person who rolls up his sleeve every time he wipes himself? I have an intense fear of getting the stinkwrist.
Falcons at Panthers
Niners at Cardinals
Two Throwgasms
Vikings at Lions: Brian Billick was the analyst for last week's Broncos/Vikings game, and I'd like to give him a firm bear hug for not gushing over Tebow the entire game (a game in which Tebow played very well). He was complimentary of Tebow only on good plays, and he didn't bring every discussion point back to the Jesus Baron. And it's a mark of how shitty most announcing crews that are that this represented a SPECTACULAR IMPROVEMENT over how Tebow is usually covered. Holy shit, if Gruden and Jaws had done that game, it would have been guffaws and backslaps for four straight hours. It would have been unbearable. I know people hate Billick from his coaching days, and he can get a little chatty on the air, but I'd take him over Dierdorf any time.
Chiefs at Jets: I was making plans with a friend last week and when he emailed me back, this is what I got.
Planning to get out of here at 16:30-16:45ish to head towards you.
And I was like, "Did you just thrown down military time on me? Who the fuck does that?" Then I went to meet him later with another friend (who was a doctor), and BOTH of them said they always communicated in military time.
ME: You're full of shit.
THEM: No. We're serious.
ME: Who the fuck talks in military time? Is that a thing now? Are people really doing that?
THEM: Yes.
ME: No.
THEM: Yes.
ME: Nooooooooooo.
THEM: (share a candy bar that they eat with a knife and fork)
I don't trust military time. It's the metric system of time. I don't want to have to subtract four every time I see an afternoon or evening time just to get my bearings. (UPDATE: I mean subtract TWELVE. You see how hard it is?!) You military time fetishists will NOT get America to turn in your favor.
Eagles at Dolphins
Patriots at Redskins
One Throwgasm
Browns at Steelers: We need to talk about Big Ben's hat from his postgame interview last week. THIS HAT. That is awful. It's clear to me that he has not yet fully purged the douche from his system. There's still plenty of douchey residue left in his system. Only a braindead pussyape would think he looks good rocking a gray pinstriped fedora with matching sport coat and blue t-shirt. I feel another bathroom attack coming on, I tell you.
Rams at Seahawks: I know Craggs talked about it earlier today, but this fucking Gruden piece from the New Yorker deserves to have 500 pounds of guano dumped onto it. First of all, this passage: