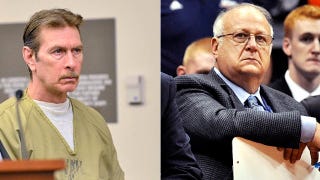 A prison inmate has came forward as the fourth alleged victim of Bernie Fine, the former Syracuse basketball assistant who was fired amid sexual abuse charges on Nov. 27.
Floyd VanHooser, 56, currently serving 16 years to life at the Clinton Correctional Facility in Dannemora, N.Y., for a string of burglaries, says that he lived with the Fines on and off for more than 40 years, beginning when he was orphaned at age 13. He says that Fine began sexually abusing him in 1969, when he was just 14 years old, and was pressuring him into giving blowjobs for money as recently as last summer.
VanHooser, who was described in a 2002 court appearance as a "die-hard drug addict," did not come forward to police with his allegations; they sought him out independently last month after his former case worker reached out and suggested that they ask him about his relationship with Fine. VanHooser told the Syracuse Post-Standard that he has limited access to television and publications at prison and "didn't know any details about the Fine scandal until the last day or two."
More so than Zach Tomaselli's bizarre tale, VanHooser's connection to the Fine family holds up. Cindy Clarke, VanHooser's former girlfriend and mother to one of his children, told police that she'd learned of the alleged abuse as early as 2001 or 2002. She says VanHooser told her that Fine "had been making him touch his penis since he was 15 years old."