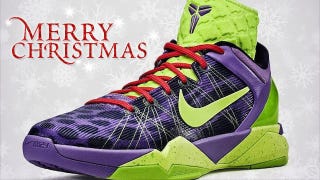 This is a regular feature in which we take a look at recent sneaker releases.
The NBA returns on Sunday, which also happens to be Christmas, and lots of players are going to be wearing special Christmas-themed sneakers for the occasion. This fairly new tradition reminds me of 13-year-old girls getting special red and green (or blue and white!) elastics for their braces every December, but perhaps we should embrace abject corniness from NBA's biggest stars. They are, after all, the ones stuck working on Christmas Day.
Among this year's Christmas shoes, the LeBron 9 looks quite cheery, as do Amar'e Stoudamire's Nikes—but the fascinating one is the Nike Zoom Kobe VII. That object you see above is not, in fact, a purple leopard (or cheetah?) with green trim or even a green shoe with purple cheetah (or leopard?) skin on it. It is the new Nike product for Kobe Bryant.