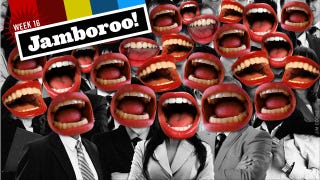 Will Leitch, contributing editor at New York Magazine and editor emeritus of Deadspin, is filling in for Drew Magary on today's Thursday Afternoon NFL Dick Joke Jamboroo. Leitch has written four books. Find more of his business at his Twitter feed.
All I remember about being a kid is doing chores. When I think about growing up, almost every memory I have involves me pushing a lawn mower, chopping firewood or washing my parents' 1986 Buick Skylark. I didn't have a Walkman or AM/FM radio or anything, so there was nothing to distract me from the tedium. So I would daydream. Before they had a thousand beeping distractions every second, people used to daydream. It was a thing.
The main daydream I had: that there were a vast number of people out there, somewhere, who were just fascinated with my life, who were obsessed with everything I was doing, who needed constant updates on my love life, my grades at school, my stats on the baseball team. This is probably not unusual, or at least I hope not: For a kid in a small town who was neither tall nor short, fast nor slow, cute nor ugly, the most fantastical notion my 12-year-old brain could concoct was that someone in the world might care that I existed. I imagined these people as breathless fans who cheered my successes and mourned my failures. Rather than write a diary, I put together something called "The Will Street Journal," which actually posited my day-to-day existence in newspaper form. Sample headlines included "Nikki From Biology Passed Note To Will Thursday" and "Church Camp Is Next Month: Will Will Find a Girl?" (I balanced out the hard-hitting metro section with a sports page in which I merely copied the current standings from the Mattoon Journal-Gazette.) I'd even give myself little quotes, like, "I'm hopeful camp will work out this year. Last year was a bust, but I'm still looking forward to it." After all, with fans beckoning, you had to release a statement; you had to say something. I actually did this. I don't think anyone ever read it, though if my parents did, they were kind enough to have never told me.
This is stupid, self-aggrandizing, and frankly deranged. It also is pretty much an exact copy of what Twitter has done, to all of us, in a staggeringly short amount of time. At least I had the good sense never to show it to anybody.
I have been on Twitter for almost three years. I wasn't sure how long I'd been on Twitter, so I just typed "Will Leitch Joined Twitter" into Google, and whammo, some site called "Twitaholic" told me: January 15, 2009. That took me to ANOTHER Twitter metric site (and what a terrible word, "metric") called Twittercounter, which told me I'm 38th in followers in Brooklyn and that I should be expected to have 60,000 followers in 1,019 days. Oct. 5, 2014, is going to be so exciting. There are so many people keeping score.
The reason I joined Twitter in the first place is because I was doing a story about Twitter. I thought I would be oh-so-clever and start an Twitter account while I was sitting in the Twitter office; I conceived it as some sort of metacommentary that would pop up throughout the story. (This was a dumb idea and I dropped it immediately.) While I was in the Twitter offices, Sully Sullenberger landed his plane in the Hudson, and within seconds, a witness named Janis Krums posted this infamous picture to Twitter.
At the end of that story—which was mostly about Twitter's business potential, raising questions that I'm not sure they've answered three years later—and inspired by that picture, I got all Deep Magazine Writer.
Think about that for a second. In the midst of chaos—a plane just crashed right in front of him!—Krums's first instinct was to take a picture and load it to the web. There was nothing capitalistic or altruistic about it. Something amazing happened, and without thinking, he sent it out to the world. And let's say he hadn't. Let's say he took this incredible photo—a photo any journalist would send to the Pulitzer board—and decided to sell it, said he was hanging onto it for the highest bidder. He would have been vilified by bloggers and Twitterers alike. His is a culture of sharing information. This is the culture Twitter is counting on. Whatever your thoughts on its ability to exist outside the collapsing economy or its inability (so far) to put a price tag on its services, that's a real thing. That's the instinct Stone was talking about. If the nation has tens of millions of people like Krums, that's a phenomenon. That's what Twitter is waiting for.
Three years later, this Deep Magazine Writer pontification feels so obvious it reads as self-parody. (Note: It might have read like this when published.) Of course this is what happened. And I think it's making us all fucking nuts. I don't mean that it's "bad" or it's "good." I mean that it's turning perfectly ordinary people into maniacs.
Yesterday morning, I went for a run. I've begun marking my runs using the Nike+ App, which my mother recommended to me. I haven't really figured out how to use it, though, and yesterday, it stopped working in the middle of my run. For reasons I still don't understand, it sent my "time" to my Twitter account, publishing it to everyone who follows me. This was embarrassing, and not just because it looked like I only ran half a mile, and slowly. (It is patently pathetic that I feel obliged to insist to you that I ran more than half a mile.) But it happens. I've had more humiliating moments online.
By the time I noticed and deleted the errant Tweet, though, Darren Rovell had seen it and did a little digital footstomp, as he is wont to do. Irritated, and still a little sore from my mistake, I fired back at him, taking a (minor) shot at his somewhat pathological obsession with food Tweets. Then it became a whole thing, leading to yet another Twitter fight between Rovell and Letterman head writer Justin Stangel. It was quite the kerfuffle.
(All right, all right, wake up.)
Now, I've met Rovell a few times, and I find him to be a generally affable, professional, intelligent human being. He has a certain well-hello-people-who-are-not-me-but-are-obviously-just-here-to-see-me vibe to him, but I just chalk that up to an occupational hazard of appearing on television regularly. And all told, the guy has always done good work (in addition to the Nike press releases and Fathead sales updates, of course); he's a legit reporter. But something about Twitter has caused him to lose his goddamned mind. He's asking people to send him pictures of their lunch, showing up in public with his Twitter handle on his back and, perhaps most infamously, installing himself as a sort of Twitter cop, with his rules of Twitter and his scoldings of those who disobey his laws. I'm fairly certain Rovell considers a moment he's not on Twitter to be a wasted moment.
This, of course, has been nothing but rewarding for Rovell: It just got him his own TV show. It might be just that, as frustrating as he is (and I honestly can't follow him), he's just better at it than the rest of us are. He has simply transplanted his life and personality onto Twitter in a more efficient way than anyone else. And don't think it doesn't matter: For some reason, people keep score on Twitter. People consider it a legitimate achievement to become a trending topic. It's like someone took the old "+1"s of the Deadspin comment section, tallied them, and not only devised a whole Website around them but actually changed the plane of human interaction. This is all we are anymore.
We've always said and done things online that we wouldn't say or do in person: This is the very nature of the Internet, and one of the million ways it is awesome. But Twitter is so quick and so pure and so valued that you can make an argument that it's more human and true and honest than actually being human. When I first started doing Deadspin, Lockhart Steele, the man who hired me, told me that running a high-content blog "will teach you things you didn't know about yourself; when you just start typing without thinking, and then doing that 18 times a day, it distills you to who you actually are." The idea was that writing like that left no time to use any of the self-protecting conversational buffers that guide us through our everyday lives; it would turn personal, emotional reaction to the outside world into a reflex. It was one of the main reasons I left Deadspin in July 2008. I loved it too much, and I was starting to worry I was becoming more a blog than a person.
But I had no idea. Twitter, at its core, is just a really short, really fast blog. It has turned everyone into high-impact content providers. I always wondered what it would look like, back in the early days of Deadspin, if every athlete and media person had a blog. It turns out: They're just themselves, but more so, unleashed, truer. Bissinger's an unhinged loon; Ron Artest is raw and crazy; Rovell's a compulsive self-promoter; Bill Simmons is certain he knows better than you about everything. Just because we'd say things on Twitter that we wouldn't say in person, that doesn't mean what we said on Twitter is somehow less palpable and honest: It's the precise opposite. If I ran into Rovell at a bar tonight, I'd shake his hand and we'd talk about sports or weather or media or whatever random conversation-fillers came into our brains. We'd be totally polite and cool. But our conversation would be bullshit. It would be much more open and truthful on Twitter. That openness and truthfullness wouldn't make us any less dickheaded, though.
Twitter just keeps growing. We are pouring so much into this, throwing it into the ether, talking to our imaginary friends who are no less imaginary simply because they are real. It is going to become our primary mode of conversation, in 140-character bits, lacking nuance, reflection, or perspective. Twitter is so much fun, right? It's easier, it's quicker, it's Just Twitter. I love it. You love it. It's how we communicate now. But let's not pretend: It's batshit that we do this. It's talking to everyone, and no one. It's releasing statements to fans who don't exist. Here's to knowing that, dammit, I'll never stop.
The Games
All games in the Jamboroo are evaluated for sheer watchability on a scale of 1 to 5 Throwgasms.
Five Throwgasms
Falcons at Packers Saints: Well, all right, so that went a tad long. Sorry about that. Anyway, I'd like to thank Drew for having me in for a cameo this week. This is my first piece for Deadspin since ... jeez, has it really been since August 2010? Apparently I really was pissed at Daulerio about the Erin Andrews story. Huh. Anyway, I love the Jamboroo so much that I not only feel overwhelmed taking it over this week, but also angry that someone other than Drew is writing it. The NFL season is almost over, and Drew's giving his column to some asshat? In Week 16? Believe you me, I understand. This is the fifth season of the Jamboroo, and I do not remember what experiencing the NFL season was like without it. It was perfect from the very beginning too. Here's a line from Drew's first-ever Jamboroo column: