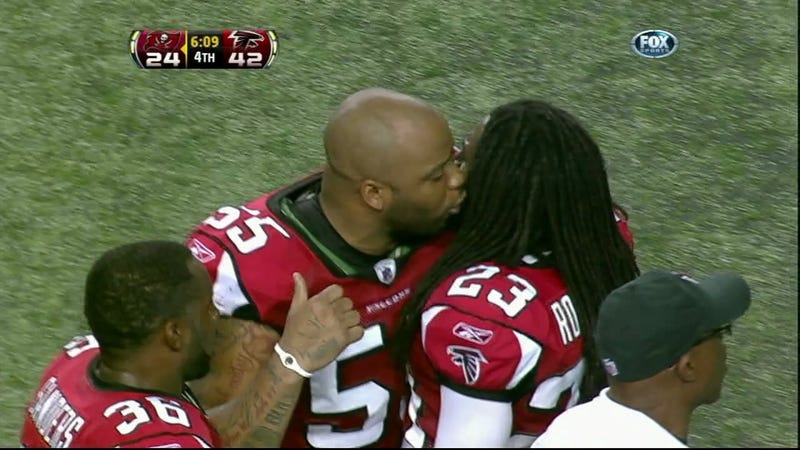 Well, the season is basically over. It's been fun at times and not so fun other times. As we prepare to enter the "second season" or the "12 team tournament" or whatever other weird term people come up with for "playoffs," let's recap the last week of the regular season.
Jacksonville 19, Indianapolis 13: I know we were all super concerned, but the Colts wrapped up the number one pick. I, for one, cannot wait for the hours and hours of studio show tape this will produce come February. By the time the draft actually rolls around you could probably wrap it around Mel Kiper's dome at least once.
Tennessee 23, Houston 22: What a strange finish. Jake "Daylight come and you gotta ask 'where did you dig up that old fossil?'" Delhomme dusted off the cobwebs and led the Texans to a last-seconds touchdown. Then things got really weird. Figuring to just go for two because they had nothing to lose, Houston first got called for a false start then, undeterred, proceeded to snap the ball about 20 yards over Delhomme's head. The Titans won but just missed out as the Broncos and Cincinnati sneak in to the playoffs.
Miami 19, NY Jets 17: Santonio Holmes may have taken a little heat off Mark Sanchez—the true mark of a Captain. Holmes was yanked by Schottenheimer in the fourth quarter after two separate scuffles in the Jets huddle with unnamed players. Chances are their names were Mark Sanchez and Mark Sanchez. The weird thing about Sanchez is that you don't often see him drop back and heave it 40 yards down field only to be intercepted. That's partly because he doesn't often drop back and heave it 40 yards down field. Instead, he throws a lot of bizarre and goofy interceptions. Because he makes a lot of bizarre and goofy decisions. If anything, the loss spared Jets fans from watching the Texans take their glimmer of hope behind the shed.
Green Bay 45, Detroit 41: Matt Flynn and Matt Stafford threw for a combined 1,000 yards. Flynn actually set Green Bay passing records with 480 yards and six touchdowns. Flynn will be a free agent next year and most assuredly some quarterback-starved franchise will throw buckets of money at him based on this game alone. Stafford, in comparison was pretty disappointing. Only 520 yards and 5 touchdowns. [CBS]
Chicago 17, Minnesota 13: Jared Allen almost got himself the single season sack record. But he didn't. Bummer. "Though the circumstances were so much different on this day, the Vikings came full circle with another loss to McCown. He filled in for the Arizona Cardinals in the 2003 season finale and knocked Minnesota out of a playoff spot with a stunning heave into the end zone on the final snap." Man, I remember that, it was the first time my in-laws heard me scream "holy shit." The first time. [CBS Chicago]
New England 49, Buffalo 21: The Bills jumped out to a big, early lead and then watched the Patriots score 49 unanswered points en route to securing the number 1 seed in the AFC. Brady is only the second greatest in single-season-passing-yards-history though, so there's a little moral victory for everyone. As for the Bills, they remain, endearingly, the Bills.
New Orleans 45, Carolina 17: Speaking of single season passing history, Drew Brees threw for 389 yards, finishing the year with 5,486 in sole possession of that incredibly meaningful record. With nothing to gain except injuries (like the 49ers weren't going to win), the Saints powered on and won their eighth in a row and set various, incredibly meaningful offensive records. Hooray.
Philadelphia 34, Washington 10: We all have a lot of fun at the expense of the Eagles and the silly Dream Team stuff, but this right here is why you should be jealous of Eagles fans: "...the Eagles (8-8) are going home despite the strong finish after failing to qualify for the playoffs for the first time since 2007 and just the fourth time in coach Andy Reid's 13 seasons." Pretty gaudy stuff. Andy Reid, like any other coach, has his haters but that's pretty tough to hate. [SI]
San Francisco 34, St. Louis 27: For some bizarre reason, Jim Harbaugh decided to bust out the fake field goal play in an utterly meaningless week 17 romp of the Rams. "Whoooooo understands that one?" "Nooooobody!" All it seemed to do was piss the Rams off enough to make the game semi-interesting. The Niners are your NFC No. 2 seed.