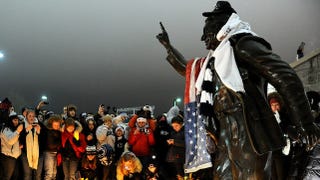 Sports Illustrated's Joe Posnanski is in a tough spot. He's a gifted writer and by all appearances a decent guy. His decency is his defining characteristic; he grew up rooting for doomed Cleveland teams and covered the worthless Kansas City Royals, but he never gave in to the urge to be a hatchet man. If Posnanski sometimes scores his work for strings, it's not to play the readers for saps, but because he's gone out of his way to be considerate to his subjects.
The subject at hand, though, is Joe Paterno. Posnanski spent the football season in State College, Pa., immersing himself in the Penn State program for a book, a sympathetic portrait of a great coach in the late-late autumn of his career. Obviously there would be some bittersweet elements: maybe a look at the rough moments in Paterno's decades as godfather to a whole university; presumably a few concerns or regrets about whether he should have retired at full capacity, rather than driving himself and the program on into his 80s, till the all-time coaching wins record was within his reach. Basically, though, a tale of a full, successful life, inspiring and detailed and ready to ship tons of copies for Father's Day.
Instead, the story ends up with Joe Paterno fired from his job and dead soon thereafter. The old saint of the sideline turned out to be deeply implicated in a true-crime story of institutional corruption and human depravity. The roar from the grandstands of Beaver Stadium was drowned out by the "rhythmic slapping sounds" in the grand jury report on the child-rape allegations against Jerry Sandusky.
At least, outside Happy Valley it was. But Posnanski has been deep inside Happy Valley. As the Sandusky scandal engulfed Paterno and the university's top officials in November, Posnanski spoke to a journalism class there and told the students Paterno was a "scapegoat" who had "tried to do the right thing," the victim of a "rush to judgment." Posnanski told the class that he was "heartbroken" about how events had affected Paterno and his family.