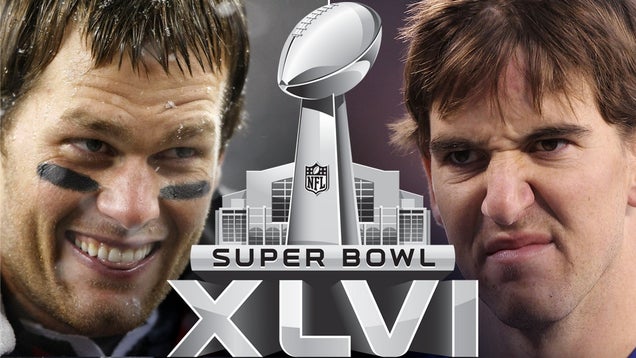 S
Ahmad Bradshaw didn't so much score the game-winning touchdown as the Patriots allowed him to score it. With a little more than a minute and only one timeout left, the Patriots planned to let Ahmad Bradshaw stroll right into the end zone. Bradshaw, realizing the Patriots ploy just a tad too late, wound up losing the battle to his momentum and tumbled into the end zone. No harm, no foul. The Giants are your Super Bowl Champs. Watch »
Also: Watch the violent ads » | Point and laugh at the Giants offensive linemen » | Watch the "Super Bowl Champion Patriots" ad » | Point and laugh at Rush Limbaugh » Watch MIA flip the world the bird »


Darren Rovell, kind of a dick:
"Quality of Playboy Playmates last night was not what it used to be," the sports-business reporter tweeted on Saturday, a night when he also delivered, to a Playboy Bunny no less, the modern version of "Don't you know who I am?."
Read »
Halftime!: Homemade Infographics: What were the gayest (and straightest) performances | VIDEO: Breaking down the gayest (and straightest) halftime shows
Around Gawker Media: Helpful hints to not sound like an idiot tonight | Super Bowl chili | Tim Tebow Photoshop contest | Ford vs. GM | Attractive women, selling cars

Discuss: Join your friends in the Super Bowl XLVI open thread.

Peyton watch: We'll be keeping track of all references NBC makes to Eli's older brother throughout the game.
Counter
: 1