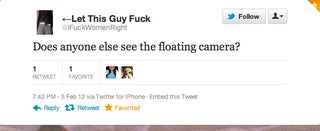 S
There are people who watch the Super Bowl despite not knowing shit about football. This much is obvious. If these people are smart (which they are, inevitably, not, else they'd know something about football) they keep their mouths shut.
Inexplicably, the people with whom you least looked forward to sharing the Super Bowl were actively Tweeting during it, too. Here's the dumbest Tweets we observed during Sunday night's game. There were a lot of confused Tweets about NBC's cable cam, which again shows you how many people watch the Super Bowl but not any other football the rest of the season. (We picked on this guy because of his Twitter name.)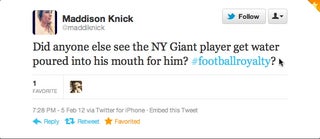 S
(Has never seen a team sporting event, even at the high school level)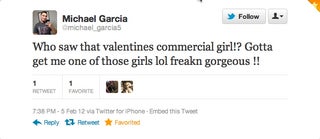 S
1. Everyone saw it. It's the Super Bowl. 2. Yes, because Adriana Limas are available in your local Ralph's.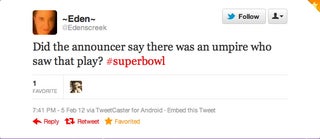 S
(Another new-to-football person.)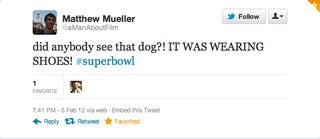 S
Everyone saw it. It's the Super Bowl. (There were literally thousands of these about every ad that ran. No, jackass, you're the only person who saw it on a broadcast that reached hundreds of millions of people. Why do we seek validation of human experience through ensuring that someone else experienced it too, anyway?)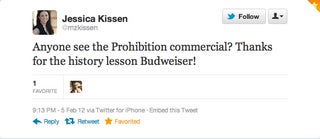 S
It's unclear if she's being sarcastic or not, but this high school history teacher appears to be praising Budweiser's ridiculously historically-inaccurate spot about Prohibition. (Bars were still segregated in Missouri then, and people didn't drink beer immediately after Prohibition ended, they mostly drank the same whiskey they did while Prohibition was in effect.)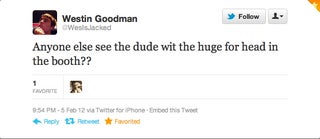 S
I think he's talking about Cris Collinsworth.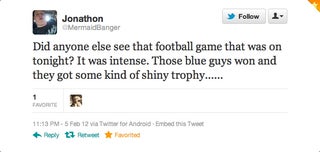 S
@MermaidBanger paid extra-close attention to the game.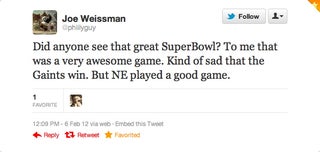 S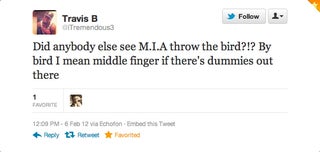 S
Thanks for clarifying, and yes everyone saw it.

S
(Has never seen a football game, did not realize the number of players on the field was a legitimate concern in the game.)