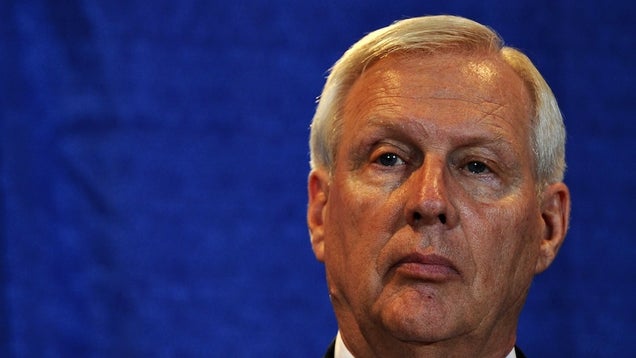 S
Less than a month after Jerry Sandusky had been arrested and the Penn State damage-control thresher had mowed down Joe Paterno, newly installed PSU president Rodney Erickson began sending out stupidly triumphant memoranda to the university's board of trustees. Here's a new one. It comes to us via public records request and the most interesting part of it is the stupidly triumphant letter Erickson sent out to more than 40,000 baccalaureate applicants after the Sandusky scandal broke. (Full memo attached below.)
Erickson doesn't really mention Sandusky. Instead he talks about candlelight vigils and dance marathons, about character and compassion. Does Erickson believe PSU attracts only porridge-eaters? I suppose he must. Because he tells the trustees that the response to his letter was "overwhelmingly positive." To illustrate the feedback he got, he drops the following unattributed quote:
"that's exactly the message I want to hear; I'm more committed to Penn State than ever before."
Just who exactly is being quoted there? Lanny Davis? Whatever. There must be some truth to it, given the following statistic: As of Nov. 30, 2011 (exactly 25 days after Sandusky was arrested) only eight—EIGHT!!—applicants had contacted the school to withdraw their applications. Well, golly. Something's still happy in Happy Valley.
You can't fault the president of a big school for banging hard on the good-news gong in the wake of an ugly scandal, but this letter limns a bigger issue: PSU has steadfastly refused to look at the scandal straight on. So much of the post-Sandusky "healing" that's taken place has been about healing the brand and keeping the gravy train rolling. We saw this brand management on display during Erickson's town hall softball circuit, in which he two-stepped his way past anything resembling a satisfying answer. If you talk around the problem, the logic goes, it might disappear. Or it might not.