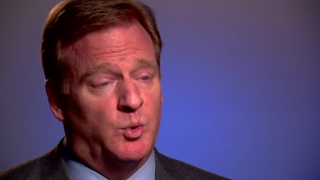 I'd like to thank Gregg Williams for inspiring the single stupidest blog post headline of the year, from Frank Bruni of The New York Times. You can tell a sports scandal has reached its wear-out phase if Bruni feels compelled to chime in on it. Anyway, here's the headline:
Enough Football Violence
God, isn't that perfectly idiotic? It's like "Enough Basketball Baskets." You'll have to look long and hard to find a more tightly constructed oxymoron.
This kind of headline is precisely what Roger Goodell was looking for. Remember: This whole bounty affair was the result of an unprompted investigation by the NFL. There was no pressure on the NFL to look into this matter or make its findings public. But they did, specifically so that people like Bruni could look at it and gin up the kind of selective outrage that makes Goodell's dick chub up. Football is an inherently violent, barbaric sport. This is why we like watching it. But it's crucial for Goodell to keep up the bullshit illusion that there is some kind of moral boundary of acceptable violence within the sport, hence the outrage over Ndamukong Suh and the coming lifetime suspension for Gregg Williams.