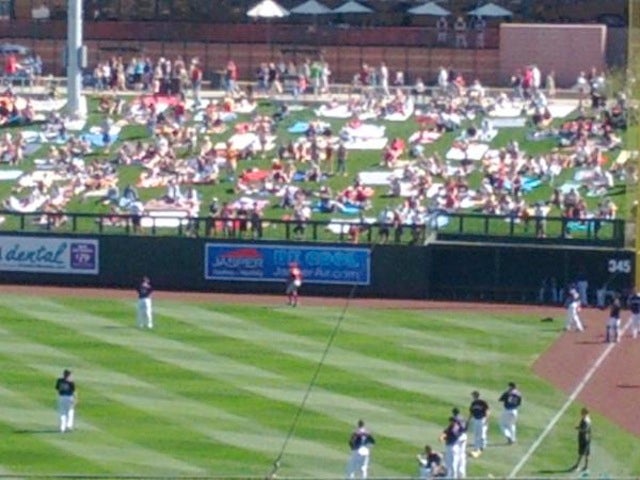 We told you two weeks ago about the hilarity that is Bad Spring Training Twitpics, the site that's collecting all the bad art being snapped by the cameraphones of the many baseball writers now roaming around spring training. That same day, Keith Law let his many Twitter followers know he was also a fan of the site's work. But then Law tweeted the masterpiece you see above, the full version of which can be seen here, and BSTTP ran with it—until Law apparently demanded it be taken down, which it was.
The photo shows Diamondbacks pitching prospect Trevor Bauer, who is that blurry red thing out there on the warning track. Law's caption: "Trevor Bauer throwing long toss from right field to his catcher, who is standing on the left field foul line." Informative? Sure. But the photo is obviously terrible, which is what made it perfect fodder for BSTTP. The BSTTP post, since deleted, displayed the photo with an innocent caption about not expecting to see Law on here, or whatever. It was even tweeted out with a ironic tip of the hat in Law's direction:
Props to @keithlaw. Just awful. badspringtrainingtwitpics.tumblr.com/post/188291849…

— ST Twitpics (@STtwitpics) March 6, 2012
But based simply on a review of both Law's and BSTTP's timeline, Law apparently began sending direct messages to BSTTP to complain, with BSTTP initially responding in the only way it could:
@keithlaw having a hard time reconciling dm's w/ this: twitter.com/keithlaw/statu…. Follow for a min so I can respond?

— ST Twitpics (@STtwitpics) March 6, 2012
A short time later, the post was gone, and BSTTP explained why:
Took down last pic. Not here to piss anyone off. Might organize a charity game between writers who laugh at BSTTP vs. writers who get upset.

— ST Twitpics (@STtwitpics) March 6, 2012
So Law was pissed, allegedly. Sometime after that, Law responded to one of his followers who wanted to know what happened:
@thefilmjerk Without context, the pic appeared to make no sense. The point was to show Bauer's proximity to the other foul pole.

— keithlaw (@keithlaw) March 6, 2012
We got the point, Keith. You're the one who clearly didn't.