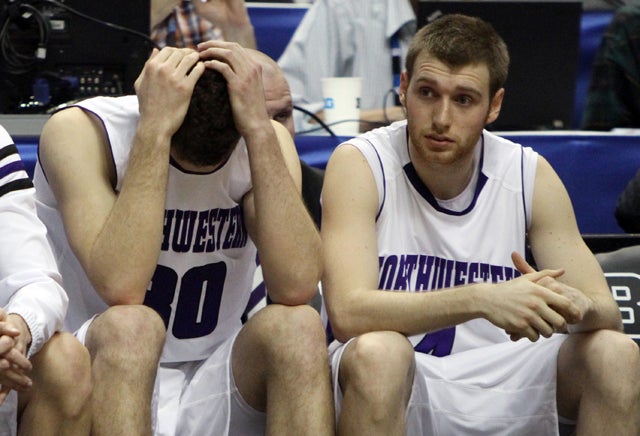 What looked like a sure thing is now just a memory. The Northwestern Wildcats hoops team, despite its best efforts, will most assuredly miss qualifying for the NCAA Tournament after today's overtime loss to Minnesota in the Big 10 Tournament. The team was attempting to secure its first March Madness appearance in 73 years of existence.
Instead, sadness. I understand how it tough it can be when your alma mater is nowhere near the elite programs of the country, but Northwestern has had to constantly battle with better schools like Michigan, Indiana, and Ohio State. Finally, this would be the year. Still, no appearances in 73 years? Cripes, that's rough.
Oh, and it turns out that an insane amount of sports media types hail from Northwestern. Their reactions, by night's end, will surely reach all steps of the Kübler-Ross model.
Let's assume all Northwestern fans were in denial at first.
Then comes anger ...
A team that continually folds under pressure, that plays with no confidence late in close games, is a reflection of it coach.

— Stewart Mandel (@slmandel) March 9, 2012
... followed by bargaining ...
Northwestern had their chances. They controlled their own destiny. One too many frustratingly close losses. Just one.

— Dan Shanoff (@danshanoff) March 9, 2012
... then comes depression ...
:( RT @sbnation: Sorry Northwestern

— Matt Ufford (@mattufford) March 9, 2012
And, finally, acceptance.
When's the NIT Selection Show again?

— darren rovell (@darrenrovell) March 9, 2012