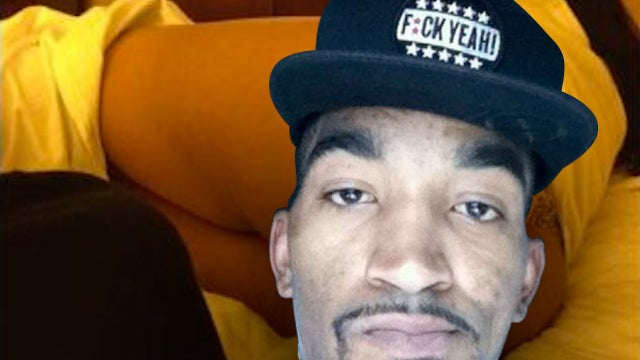 The Knicks are on the road, with a game tonight in Milwaukee, but it's pretty safe to say J.R. Smith is not a lonesome traveler. Last night, in the midst of tweeting and re-tweeting praise for his younger brother, Chris, a senior guard at Louisville, which defeated Marquette in the Big East quarterfinals, Smith tweeted the photo you see above, part of which has been obscured. The full version of it, which is obviously NSFW, can be seen here.
The ass in question belongs to Tahiry Jose, a self-described "bartender-turned-magazine cover model" who has a Facebook fan page that refers to her as "The Girl with the biggest ass ever." Jose used to date rapper Joe Budden, and the relationship didn't end well, by all indications.
Budden saw Smith's tweet and quickly responded:
Even the high road ends.........

— Joe Budden (@JoeBudden) March 9, 2012
Smith subsequently deleted the tweet, but not without taking a swipe at Budden by basically saying "scoreboard":
Sorry for my last tweet @TheRealTahiry n @JoeBudden I see y'all will never be done so I'll step aside an chalk this one up! #koldGame!

— JR Smith (@TheRealJRSmith) March 9, 2012
Jose then took to Twitter to react to Smith's having shared a photo of her ass on Twitter: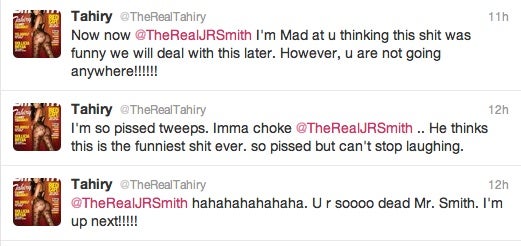 Jose didn't appear to be too ashamed, though:

She also felt the need to inform us that, contrary to appearances, she and Smith have yet to consummate their relationship: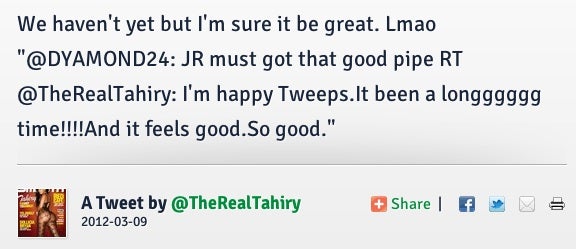 In conclusion:
Wanna welcome @TheRealJRSmith to the social media world... He had no idea. Viral!!!! I had no clue my self 2yrs ago. *shrugs.

— Tahiry (@TheRealTahiry) March 9, 2012
And:
One of those days I wish I would have went to college!

— JR Smith (@TheRealJRSmith) March 9, 2012
Don't change, J.R. Smith. Don't ever change.