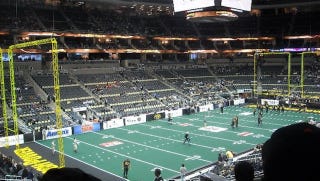 Arena Football League players presumably aren't in it for the money, since, at roughly $400 per game, most of them don't make all that much money to begin with. Those who would like to the league improve player salaries don't have much leverage, either, since it's pretty easy for a league composed mostly of guys off the street to find other guys off the street willing to play in their place. Take what happened when the Arena Football League's players' union authorized a strike on Friday, the day the Pittsburgh Power were slated to open the season against the Orlando Predators: The owners of both teams hit back by releasing all 24 of their players, with the Power's owner telling his players about it during dinner at an Olive Garden hours before kickoff.
This is how Power center Beau Elliott described the scene to the Pittsburgh Tribune-Review:
"I'm putting food in my mouth and being read, from a piece of paper by our owner, that the Pittsburgh Power as a whole is now terminated. Mid-statement, all the players got up and left. Every player got up and left while he was still talking. There were 15 to 20 angry, large individuals."
The Power's owner, Matt Shaner, gave the released players the option of leaving the union and rejoining the team under the terms of their old contracts, and the Predators' management gave its players the same offer. Friday's game wound up being played, with a handful of players opting to return to join the replacement players. But those Power players who refused the deal were on their own.