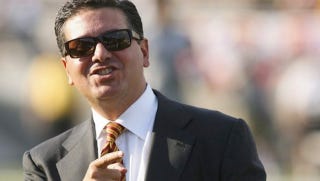 This morning, Dan Steinberg passed along an item about a personnel change involving the Washington Post's Redskins coverage:
"Mark Maske has moved full-time to the Redskins beat, joining Mike Jones," the memo said. "Mark will still keep tabs on NFL news, but his contacts around the league and experience working with the Redskins in the past will add even more depth to our coverage in what now promises to be a very interesting year. Rick Maese and Barry Svrluga will continue to devote a good deal of the autumn to the Redskins and NFL, helping us chronicle the fortunes of our local franchise. They also will be training their eyes on other stories during the year, adding fresh perspective to our teams and athletes and at times looking beyond to other topics."

Dan Snyder was asked last year if he had a good relationship with any local media members; "some," he responded. "Mark Maske was terrific at the Washington Post for a long, long time."
The Washington Post wants to continue to have access to Dan Snyder. And having access to Dan Snyder means doing journalism according to Dan Snyder, which means taking a turn now and again as a slavish extension of Dan Snyder's PR office—a task that can take many forms. Some journalists simply choose to rewrite Snyder's press releases. Others prefer to swallow whatever talking points Snyder feels like putting in their spoons. Last year, the Post bent over and grabbed its ankles by agreeing to drop the name Redskins Insider from the title of its blog about the team. In so doing, the paper also felt obliged to quote a spokesman saying with a straight face that the Redskins wanted to "protect their name." So what is it about Mark Maske, the Post's new Redskins beat man, that makes him so "terrific" in the eyes of Dan Snyder? Maybe it's this, from the September 2006 issue of the Washingtonian: