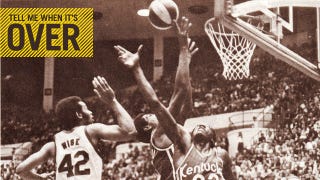 Tell Me When It's Over is an interview series in which we ask former athletes about the moment they knew their playing days were over. Today: Willie Wise of the 1969 national semifinalist Drake Bulldogs and the 1971 ABA champion Utah Stars.
The Drake Bulldogs came as close as any team to stopping UCLA during the Bruins' run of five consecutive titles from 1967 to 1971, losing by only three points in the Final Four. Of all the Drake players, including future Celtics draft pick Dolph "Scoop Shovel" Pulliam, All-Tournament selection Willie McCarter, future Pan American decathlon champion Rick "Wany" Wanamaker, and Don Draper (yes, Don Draper), it was senior defensive leader "Wondrous" Willie Wise who would last longest in the pros: 475 games in the ABA and 77 games in the NBA.
Wise made the ABA's All-Rookie team, was twice selected for the All-Defensive Team and was a three-time league All-Star. In 1971, Wise's Utah Stars won the ABA Championship, and one season later Sports Illustrated called him "the best two-way performer in professional basketball."
He's flown a plane solo once, read the Bible twice and, like Joe Quigg, has seen Star Wars at least three times. Despite playing several seasons in Utah, he has never been on snow skis. These days, Willie Wise can be found driving a truck somewhere in the Pacific Northwest.