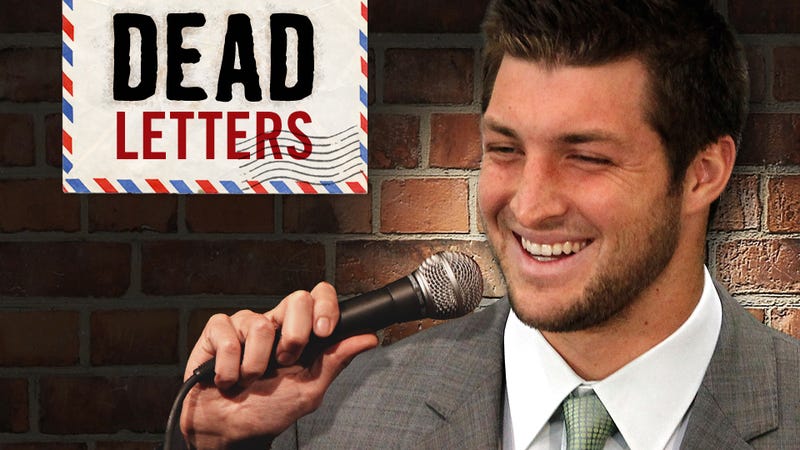 Welcome back to Dead Letters, the feature in which we reprint our favorite fan mail from throughout the week. It's like Deleted Scenes, but without all the scuzz money. We should take this moment to remind you that all emails to Deadspin and its editors are on the record unless otherwise specified. Now for your letters.
Subject: Tebow Jokes!
From: Costaki Economopoulos
To: The Staff

Hey Kids,

I have a regular joke-driven all NFL radio segment called "Quick Snaps."
Would LOVE to talk to you guys about writing for the site.
Perhaps a once weekly feature with several topical NFL jokes?

This week it was a PLEASURE to be a football joke writer.
Highlights below.

Let's discuss!

-C

Tebow's headed to the Big Apple. I'm not a biblical scholar, but a Christian around an apple? Sounds like trouble to me.

Welcome to New York. Where 3:16 is the ratio of city blocks that smell like urine.

New York already has players with questionable talent who pray for wins. They're called the Mets.

Tebow insists that he and starting QB Mark Sanchez have a great relationship. Yeah, well, that's what the Clintons say too.

I looked it up. "Sanchez" is a Spanish word for "Orton."
Subject: I'm going to visit the site less with this wierd format
From: Tim Duncan
To: The Staff

[No text.]
Subject: Minor League Guy