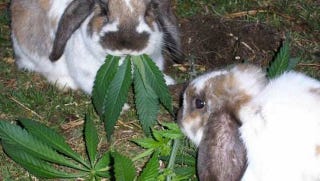 Detroit Lions running back Mikel Leshoure is being arraigned today in Berrien County, Mich., court on a marijuana charge. As with many low-stakes weed busts, the details are whimsical:
The officer observed Leshoure "chewing marijuana" and saw "small pieces of marijuana down the front of his shirt," according to the report. Leshoure complied when he was ordered to spit out the marijuana, the report said.

According to the report, Leshoure admitted to smoking marijuana before he was pulled over but said most of the substance in his mouth was potpourri that was mixed with the drug.
But they're also familiar details. Consider what happened to Carl Fleming, a Pitt linebacker, over the weekend:
Officers saw him shove a plastic bag into his mouth, and ordered him to open the door and spit out the bag, according to the affidavit. Mr. Fleming refused, and officers then opened the door and pulled him out of the vehicle. When he still refused to spit out the bag, one of the officers punched him and got the bag, which contained marijuana, according to police.
Or take the cases of Elijah Dukes and Samaki Walker, both of whom, in the past year, allegedly tried to eat their weed when cops closed in on them. Anyone who has ever talked to a cop with contraband of one kind or another on his person will certainly understand the impulse, and the move does make a certain kind of pothead sense—how are they gonna bust me for possession if I possess it inside me, man? But are the pot-eating athletes doing the smart thing?