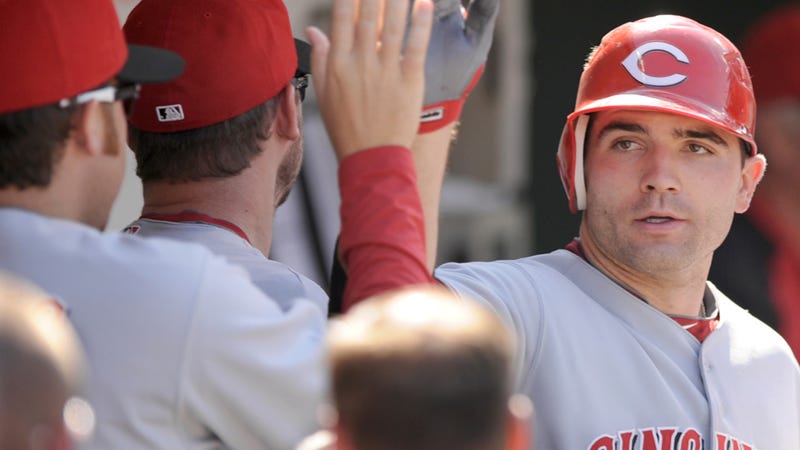 Reds first baseman Joey Votto officially signed a big contract extension today. A big, honking deal: 10 years, $225 million, on top of the two years and $26 million the Reds already promised him for 2012 and 2013. There's an option year for 2024.
If you're a Reds fan—and, really, who isn't—this might be welcome news. Your best homegrown player in years has committed to your backwater, vowing never to spurn your folksiness for slick coastal suitors. But for all the rest of us, the Votto extension is the latest sign that MLB is heading down an unwelcome (and unsustainable) path of bludgeoning everyone with cable rights fees.
Dave Cameron explains it well at Fangraphs:
To do this deal now and absorb the extra risk of guaranteeing him 2014-2023 while Votto is still two years away from being able to negotiate a deal on the open market, the Reds are essentially saying that his fair market value is somewhere around $300 million.

A few months ago, that would have sounded absurd. However, since the off-season began, we've seen the Angels flex their financial muscle after agreeing to a television contract that promises to push significant new revenues into their organization. Just a few days ago, we saw the Dodgers get purchased at a valuation that was dramatically higher than expected, and with their own television deal coming up for renegotiation, they also look to be in a position to push a lot of cash into the industry. Put simply, we're seeing some positive shocks to the game's economy, and the result looks to be a significant uptick in willingness by teams to borrow from their own futures to finance talent acquisition in the present.
The Reds don't yet have a giant television deal, not like the Angels' 20-year, $3 billion contract. Instead, they extended Votto with a theoretically big TV payout in mind. Because TV is going to make everybody rich.
Right now, there are two kinds of regional sports networks (RSNs). Some are team-owned, like the Yankees' YES Network, and some are independent, like most Fox Sports Net and Comcast Sports Net channels. They make their money by charging a monthly per-customer fee to cable and satellite providers in the team's market, and the providers pass that fee onto their customers. All of their customers: nearly everyone with a cable subscription in New York, New Jersey, and Connecticut paid an average of $33.60 to the Yankees' network and $28.56 to the Mets' network last year. And those networks get to sell advertising on top of those fees.