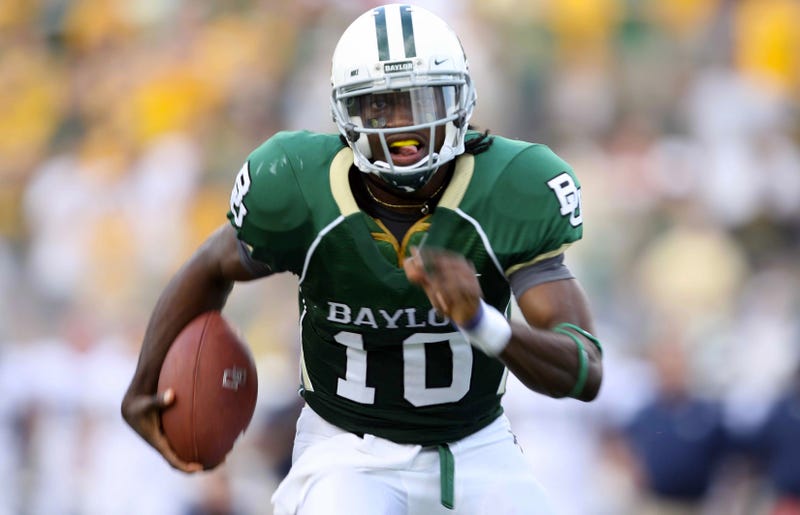 The NFL draft is a week away, so it's just about time to start flinging around unfounded speculation and backstabbing and deliberate misinformation, and that's all before Mel Kiper takes to the airwaves. Which young man shall we tear down today? Curiously, it's Robert Griffin III, the second overall pick that we thought everyone loved unconditionally.
From the Milwaukee Journal Sentinel's draft preview, one scout sends up a tentative red flag:
"He has better arm action and is more accurate with his deep ball, but he's not as good as Cam Newton," a fourth scout said. "As much as is written about his athleticism, his athleticism under duress in the pocket isn't even close to Cam Newton's. This guy, the only way he gets big plays with his feet is if he's got a wide-open field and the sea opens for him. He's got a little bit of a selfish streak, too. Everybody was laying on Cam, but for some reason this guy has become gloves off. He doesn't treat anybody good." Another scout also questioned the way Griffin deals with people.
Besides the obvious fact that Griffin's "selfishness" shouldn't have much of an impact on his play, the question must be asked: Who's saying this, and why now? The info comes via Bob McGinn, who's universally respected and may have more sources than any beat writer in the nation. But a part of that is his willingness to print just about whatever he's told, even if the source has an agenda. (It was McGinn who reported Terrelle Pryor's low Wonderlic score last year, and insinuated the Vikings were tampering with Brett Favre in 2008.)