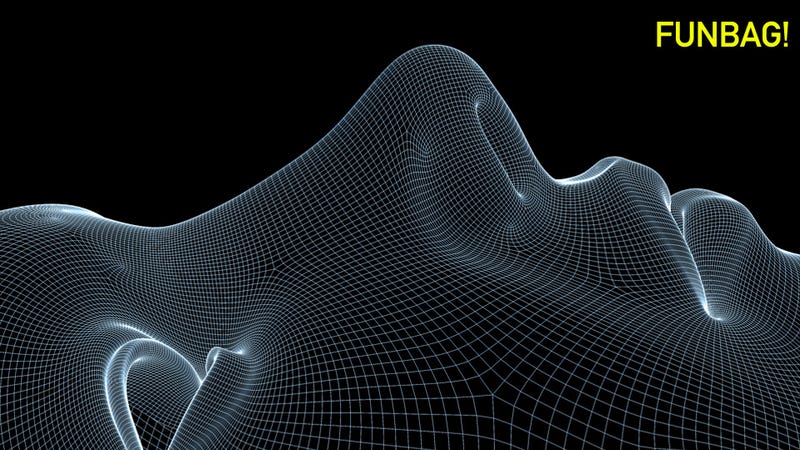 Time for your weekly edition of the Deadspin Funbag. Find more of Drew's stuff at KSK or on Twitter. Buy Drew's book, The Postmortal, through here. Email the Funbag here. Today, we're covering pie sex, musical terrorists, death hawks, and more.
Your letters:
Peter:
How many years away do you think we are from being able to upload a picture of a platonic friend/sexy coworker/friend's mom and have the internet do a facial recognition search for porn starring someone that looks similar?
Even though I'm certain that workers at the Pentagon already have access to high-tech facial recognition software that allows them to search for Redtube videos of your mom banging her pastor, the current consumer offerings in this department are woefully thin. I found a site called Pictriev that claimed to be able to search for faces on the web. So I took my head shot (HANDSOME) and uploaded it. Pictriev told me there was a 55 percent chance the face I uploaded was that of a man. It said my approximate age was 25, which was flattering but wrong. It also said I looked like Brendan Fraser, which I think is still flattering, but wrong. Then it displayed a gallery of similar faces on the web. Here is that gallery:
There's a 24 percent chance that I'm Diane Kruger. I don't think I'd have a problem if that turned out to be true. I'd just throw on a Helen of Troy costume and diddle myself all day long.
Pictriev did manage to turn up one Photoshop of me from the web, so I guess my search was a "success." But none of the pictures they turned up were porny in nature. Chances are, any attempt to plug in a bikini picture of that secretary you stalk on Facebook will turn up empty.
Most other sites that search for faces (including, of course, Facebook) do so using tags. They don't actually scan your face for unique features and octagonal glasses, the way Roger Moore's computer could in For Your Eyes Only. I know that sucks, because we'd all like to think that there's a Sarah Phillips porn tape out there just begging to be discovered. But consider all the terrifying alternative uses for widespread facial recognition technology. Someone could use it to steal your identity. A stalker could use to search for all photos of you on the web, then print them and cut them out and make a little shrine to you that will only be complete once your liver is resting in a silver bowl in the center of it. Employers could easily find that Photoshop your friends made of you fucking a donkey in a hot tub. If this technology is not yet fully developed, it's not the worst thing on Earth.
Zack:
I was in a wedding over the weekend, and while we were sequestered away waiting for thing to start, somehow we got on the topic of American Pie. Let's assume there must be a number of people, let's call it X, who saw that movie and subsequently stuck their dick into a pie to see how it felt. What percentage of X, let's call it Y, burned their dick when they put it into the aforementioned pie? My gut tells me that anyone dumb enough to put their penis in a pastry would likely do it too quickly and torch their dong, so I'd put the over/under at Y = 85 percent. Others (WITH DISTURBINGLY KNOWING CONFIDENCE) said it'd be as low as 15 percent, because someone who isn't afraid to put their dick into things has put their dick into things before and isn't going to put their dick into something all willy-nilly. What's your estimation on Y?
See now, this is the kind of question that should be on the SAT. What makes you think it's "dumb" to stick your dick in a pie? You could be a MENSA member and still want to do it because you just wanna see how it all plays out.
I think your friends are closer to the correct percentage than you are, for a handful of reasons. First of all, most pies keep without refrigeration, so the average pie is already out on the counter at perfect room temperature. No need to microwave it and subject your dick to dreaded microwave hot spots in the center apple ooze. Everyone knows that, after about three seconds in the microwave, pie filling becomes hotter to the touch than a fucking exhaust pipe. Few boys would dare risk their manhood for that. For even heating, you'd have to toss it back in the conventional oven. And if you're gonna fuck a pie, you're gonna be too horny to stand there with a rock hard dick waiting for it to heat up for twenty minutes. You'll just nut into an oven mitt ten seconds later because you can't stand it anymore.
Also, I'd be willing to wager that the majority of piefuckers out there fuck store-bought pies. If your mom was nice enough to make a pie from scratch, you're not gonna defile it, and if you are, you're not gonna do it right after she pulled it out of the oven. You're going to bang one of those cheap whore apple pies from Safeway, the kind someone buys in bulk for a library fundraiser or some shit like that. That's a pie you can get away with stealing and raping.
As someone who made love to handful of food products as a teenager, I can tell you that the temptation to have sex with a pie is real, and that most boys usually end up regretting it. It doesn't feel as good as it oughtta feel, and it makes a huge mess, so much so that you begin worrying about the cleanup well before you've achieved orgasm. Once you get to my age, you've put your dick through Hell on Earth and come to realize that a fistful of lotion is always the way to go.
Jeff:
Since implementing the horribly frustrating new kickoff spot to the 35-yard line, I've noticed many kickoffs that have made there way through the uprights. Shouldn't there be some kind of reward for doing this? What if by making the kickoff through the upright it resulted in pinning the opposing team on the 10-yard line instead of the 20?
Works for me. I've also thought that any returner who fields a kickoff and lets his momentum carry him out of the back or side of the end zone should get whistled for a safety and the summarily spit on by local fans. They let returners get away with murder back there. You could balance the ball on your facemask for 10 minutes and they'd still call it a touchback.
Roman:
In Under Siege, Bad Billy and the Bailjumpers et al. take over the ship. Were these guys terrorists trained to be musicians or vice versa? Terrorist and kick-ass rock musicians? Dual threats!
Obviously, Tommy Lee Jones is a former US agent gone rogue, so terrorist is his day job. As for the band he hired, I presume that they were all mercenaries to begin with and then Tommy had them learn their instruments as part of their cover, which seems like a lot of work, but no one said taking over a battleship was a cakewalk.
But then the band would have to be credible enough to get hired to play a show on the boat, which means they would have to cut demos, play in clubs, and gather up something a following in order to get notice of the U.S. Navy. And that's a real stretch, considering this is a movie where an entire band of terrorists is foiled by a cook.
Brad F:
What if you had to choose one meal you'll be consuming three times a day for 30 straight days. That meal cannot be changed or modified in any way throughout the challenge. What would you choose? On what day do you officially began to hate what you are eating (if ever) and after your 30 days are up, do you think you'd be able to eat that meal ever again?

I swear I could knock down a couple tasty sushi rolls for the entire time and would never give up eating said rolls again. Then again 90 meals is a long fucking time!
Take it from someone who once flushed sushi down the toilet at an all-you-can-eat sushi joint, you could not have sushi for 90 meals in a row. You'd die. Your best bet would be to have some kind of breakfast or lunch food that you have every day. I could eat Cocoa Puffs every morning for three months and be relatively pleased with the arrangement. Make it all three meals of the day and maybe I can pull through. Or maybe there's a sandwich you always have for lunch that might also be acceptable at other hours of the day. Record holder Don Gorske has eaten a Big Mac at every meal for years, even though I bet he's lying. You could find an item that's agreeable enough to take the distance, but the key is that it would have to be a relatively staid choice, like an Italian sub or a an Egg McMuffin. If you try to get all crazy and pick chicken tikka masala, your bowels might never forgive you. Personally, I would choose some kind of breakfast sandwich, with eggs and ham and bacon and shit. Never goes out of style.