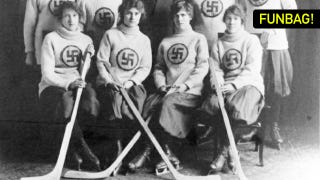 Time for your weekly edition of the Deadspin Funbag. Find more of Drew's stuff at KSK or on Twitter. Buy Drew's book, The Postmortal, through here. Email the Funbag here. Today, we're covering mauling deaths, banana salad, immortal quarterbacks, and more.
You're gonna want to be around on these here Interwebs tomorrow, for something is going to happen that will be monumental in its utter triviality. I promise you, you will TOTALLY be disappointed. In the meantime ... your letters:
Nick:
What sport has the most racists?
Of the major American sports, I think it's baseball because as we've noted here before, baseball is the sport that has the most assholes, so it stands to reason that the sport with the most assholes would then have the most racists, because racists are assholes. Baseball also has a Latino player base much larger than that of basketball or football, and there have been more than a few instances of culture clash between Latino baseball players and their English-speaking counterparts. So that could serve to exacerbate the RAYCESSM.