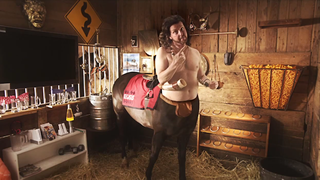 What's the saying? If you'll keg stand for something, you'll fall for anything? Promoters of the Preakness Stakes must believe it. Turns out that Kegasus, spokesbeast for the Preakness and the best mascot in all of sports, is a sham.
Our I-Team has learned that the actor who portrays Kegasus—the half-man, half-horse who was "Thoroughbred to party"—is in fact a teetotaler who has done, ahem, anti-drinking commercials! It's another cynical revelation for a nation already weakened through the years by news that Newt Gingrich doesn't really defend marriage and Barry Manilow didn't actually write "I Write the Songs."
For the unfamiliar: Since last year, Kegasus has been pushing booze on the masses in his role as "Lord of the InfieldFest." He appeared in commercials featuring a stall with a tapped keg in it; in some spots, he'd hold a big horn as if it were a beer bong. Kegasus hawked the Mug Club, which for $20 grants racetrack patrons a bottomless cup of beer and urged Pimlico infielders, a group that runs atop toilets as a matter of practice, to do something "legendary."
A portion of Kegasus's official bio:
Favorite Drink: Draft Beer

Favorite Dessert: Draft Beer

Favorite Scent: Draft Beer
He was something of a throwback. Alcoholic promotions all but disappeared from sporting events after the Ten Cent Beer Night Massacre at Cleveland's Municipal Stadium in 1974. But, as the advent of Kegasus proved: They still work!