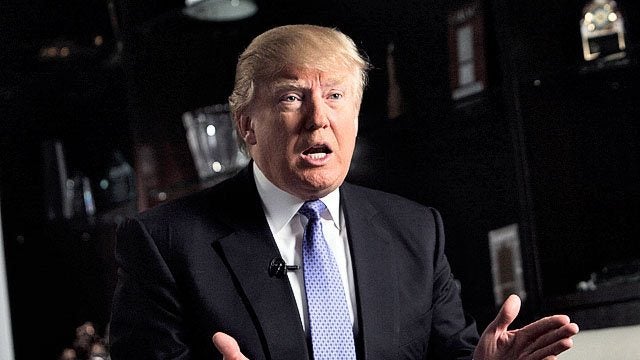 Donald Trump, when he's not questioning Barack Obama's citizenship or trying to revive his years-old slap-fight with Rosie O'Donnell, sometimes says funny things on Twitter. Not "ha-ha" funny things, but "your weird uncle walking around with his robe open at Thanksgiving" funny things.
Today Trump hopped on Twitter and launched some pointed criticism at political commentator, fan of old-timey baseball, and Tory Muppet George Will. This was all in response to Will calling Trump a "bloviating ignoramus," which is, like, the most George Will thing anyone could ever say.
George Will may be the dumbest(and most overrated) political commentator of all time. If the Republicans listen to him, they will lose.

— Donald J. Trump (@realDonaldTrump) May 27, 2012
Losers such as George Will and @Rosie use me to get publicity for themselves. They are strictly third rate.

— Donald J. Trump (@realDonaldTrump) May 29, 2012
George Will totally "bombed" at The Mar-a-Lago Club. I was there to watch. He was embarrassed and no longer likes Donald Trump.

— Donald J. Trump (@realDonaldTrump) May 29, 2012
So many questions! What is the Mar-a-Lago Club? A quick Google search tells me it's a grotesquely opulent mansion owned by Trump in Palm Beach, Fla., that seems to serve as a place where rich people can gather and act rich together. But what was George Will doing there, and in what way did he "bomb"? Did he freeze up when participating in the club's annual stage rendition of Atlas Shrugged?
Trump quickly found out, though, that when you mess with one stodgy pseudo-sports commentator, you mess with them all—or at least with Rick Reilly, who has a history with Trump all his own.
Yes! You read or listen to George Will and think, "Loser!" ... RT @realDonaldTrumpLosers such as George Will use me to get publicity.

— Rick Reilly (@ReillyRick) May 29, 2012
So much ether.