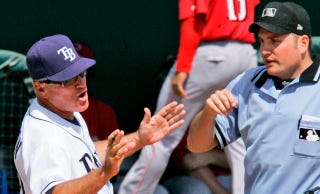 Welcome to Better Know An Umpire, an effort to educate ourselves on the human elements who have ultimate decision-making power over some 2,500 Major League Baseball games a year. (All cumulative statistics are through the 2011 season, unless otherwise stated.)
Name: Dan Bellino
Uniform number: 2
Age: 33
Height/weight: 6-foot-2, 205 pounds
First year as MLB umpire: 2008
Total MLB games worked through 2011: 273 (home plate: 65)
Previous experience: New York-Penn League, Midwest League, Florida State League, Eastern League, Pacific Coast League, International League, Arizona Instructional League, Hawaii Winter League, Arizona Fall League, Puerto Rico Winter League
Career ejections: 10
No-hitters called: None
Over/under record (2009-2011): 28-36
Hated in: Boston, Tampa Bay, Chicago
Notable alleged blown calls: Royals-Indians, May 28, 2012; Red Sox-Mariners, August 25, 2010.
Claim to fame: Once ejected Boston's Adrian Beltre for talking to Felix Hernandez during an at-bat.
Scouting report from Major League Umpires' Performance, 2007-2010, by Andy Goldblatt:
Bellino's 2010 statistics put his strike zone squarely in the middle. His BB/9 was half a percent lower than average and his K/9 was half a percent above average, making his K/BB a scant one percent above average. His R/9 was four percent higher than average, somewhat anomalous in that his slash stats weren't that far from the norm.
Scouting report from an angry blogger:
Apparently age has nothing to do with maturity. The call was made without thinking, and Pellino had no answer for why he came to such a quick decision. He was clearly just nervous and that's all he could do to get himself out. Either way, get this clown out of here, its bad enough with the umpires the MLB already has.
Average K/9 (2011): 15.4
Average BB/9 (2011): 6.5
Sample PITCHf/x strike zone: May 17, 2012. Red Sox shortstop Mike Aviles was ejected for arguing a called third strike, but Bellino's zone was pretty consistent throughout the night. (On the flip side, Aviles was the clear beneficiary of Jeff Nelson's hysterical blindness last night.)