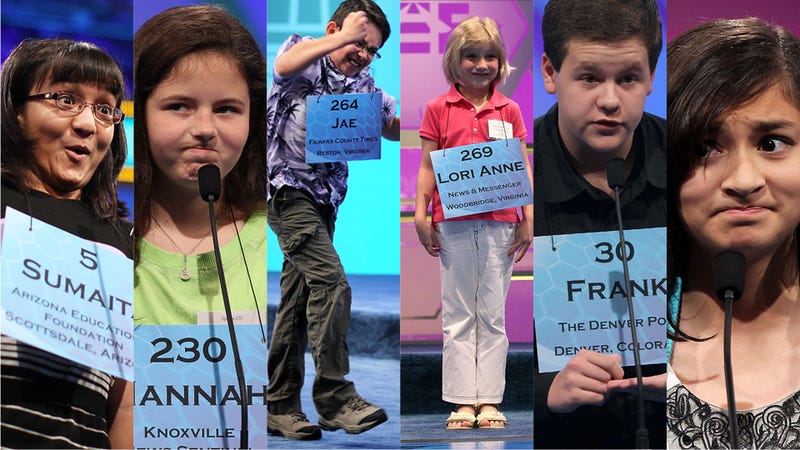 You know what the national spelling needs to make it even more compelling? INJURIES. No one ever gets physically injured during a spelling bee. Oh sure, there's extensive PSYCHOLOGICAL damage that occurs when children get eliminated and their dads won't even give them a hug when they get escorted back to their chair. But you never see a kid trying to spell out "babushka" on his palm and then suffer an aneurysm. THINK OF THE DRAMA.
Anyway, I'm here all night to watch the Bee and make with the penis jokes. Feel free to join in down below in the comments, or refresh the window for updates from me. I have a two-month old who eats like a goddamn Mangino, so there may be some slight gaps in the coverage. But fear not. I'll drop that baby on its head at a moment's notice if some unibrowed 12-year-old has a nervous breakdown on stage. Please note that, while these kids are not permitted to make spelling errors, I am. Let's go!
9:38pm: GUETAPENS! SHE GOT IT! Snigdha is your winner! And kudos to the Bee for delaying the confetti drop for an extra thirty seconds, just to baffle every goddamn one. Congrats, Snigdha! OH SHIT! Sam Steele just congratulated the wrong girl! RAYCESS!!!! Good night, folks.