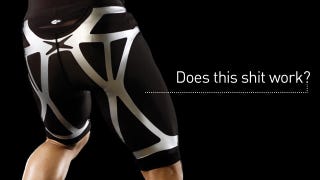 What if pants could make me a better runner? With a half-marathon ahead of me, I decided it was time to try compression tights for training. As I struggled to pull a pair onto my slightly overweight legs, I could feel the skintight fabric transforming them from slack to firm, without any flexing. I stood up and marveled at how sleek and aerodynamic I looked. You could bounce a quarter off my thigh. Before I'd run a single step, my muscles seemed focused on the work I planned to do.
Manufacturers of compression apparel want customers to feel that way. Adidas tells me its Techfit "focuses your muscles' energy to generate maximum explosive power, acceleration and long-term endurance." Under Armour says its leggings "deliver increased power and stamina."
Enough people believed these claims to make sales of compression gear jump 170 percent from 2008 to 2010, giving it a 5 percent share of the sports apparel market, according to a recent consumer-research report. Customers are willing to pay a premium for the squeeze; according to the same report, retail margins for compression gear are 46 percent, compared to 43 percent for regular athletic clothing.
And it's true that compression gear isn't an ordinary pair of spandex pants. Made with tighter elastic to better hold its shape, compression apparel also delivers graduated pressure, meaning garments are tighter around the ankle than the knee, which helps improve circulation from the lower leg.
Whatever the compression did for my self-image, though, it didn't make me run faster. Researchers from Australia to Indiana have been studying whether compression apparel delivers its purported benefits. I kept track of my own running times, with and without tights, and that data led me to the same conclusion as the scientists: If you're looking for better endurance or more speed, don't bother with compression gear. It makes no difference.
Earlier studies had showed that runners, cyclists and other athletes experienced improved blood flow through their muscles when wearing compression gear during workouts in the lab. It seems logical to extrapolate that greater blood flow means better oxygenation of muscles, and thus improved performance.
Somewhere along that supposed chain of causation, however, things stopped linking up. Improving blood flow to muscles isn't exactly junk science on the level of Power Balance wristbands or Phiten necklaces. Before becoming a fad in sports apparel, compression garmets were used to treat patients suffering from poor circulation, by applying pressure that improves blood flow in the veins.