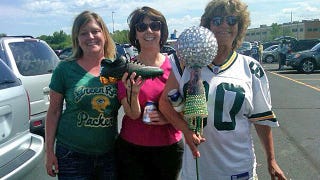 Meet Robyn Ereth. (She's the one on the left.) Last night sometime, she posted this image to her Facebook with the following note:
Donald is missing a shoe!!!thx Donald!!!!
Hordes of tipsters let us know Robyn's probably the woman who ripped a shoe out of a child's hands after the Packers' Donald Driver tossed a cleat to him after a charity softball game. It certainly looks like her, and she's wearing the same shirt.