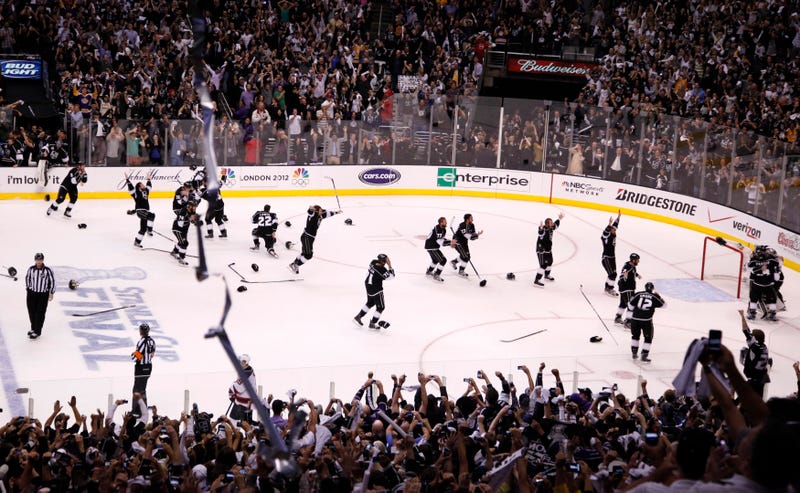 Drew Doughty spent the last 10 seconds of the 2011-2012 NHL season standing around and doing nothing. As the Devils made a token effort along the boards in the Kings zone, and as the Kings made a similarly token effort to chip the puck out, Doughty stood on the edge of the crease, never leaving his goalie's side. With two seconds left, Doughty tossed his stick to the ground and whipped his gloves off. He wanted to be ready. When the final horn sounded (and the Kings booth laid on that horn for 21 sweet seconds), Doughty was in position. The celebration would be at his end—Jonathan Quick's end. Jonathan Quick's spring.
There is, I think, no happier moment in sports than the final hockey celebration of the year. Players pouring off the bench, frantically shedding equipment as they make a beeline for their goaltender. The formal stuff will come later—the awards, the you-did-it speech from the coach, and the Cup, god yes, the Cup. At that moment there is nothing but dopamine.
I once asked Jay Pandolfo, who won a Cup on home ice with some of these same Devils nine years ago, to express what goes through a player's mind after the final buzzer.
"AAAAAAAAAAAAAAAAA," he said. "With seventeen 'A's. You don't think. You just scream."
If that is the happiest moment in sports, I also know the saddest. Steve Bernier, sitting in a deserted visitors' locker room. There is no TV. He can only hear the Staples Center crowd. Seconds after he sits down, the crowd roars. Minutes later, the crowd roars again. Minutes later, the crowd roars again.
Bernier's boarding major and game misconduct put the Devils a man down for five minutes, and ended his season, and effectively ended New Jersey's season with two-plus periods left to go. A two-plus period death march then, with Quick a wall and Kovalchuk and Parise invisible men. Bernier—making minimum wage, on his fifth team in seven years, a free agent with a pregnant wife—will be blamed, but he won't be blamed. He will become shorthand for this game and series loss, in the way that we always resort to simplistic portioning of accountability when the bill comes due. On the scrap paper of memory, goathood can't be divided up.