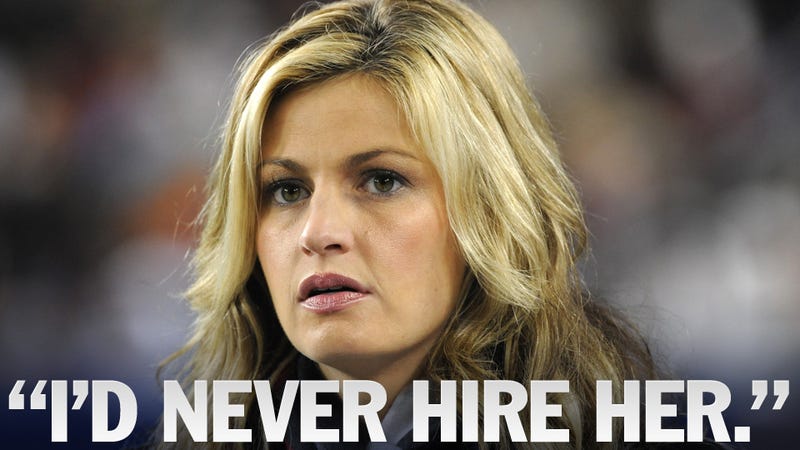 Around the time that news of Michelle Beadle's departure leaked, there was (surprise!) a US Weekly report that ESPN sideline reporter Erin Andrews and Gossip Girl guy Chace Crawford had gone out on a "couple" of dates. There were also a bunch of tweets about how much time Andrews spends with models Brooklyn Decker and Chrissy Teigen. Earlier this week, TMZ wondered if Andrews had breast implants and offered up a photo gallery of 34 recent bikini pics for you to peruse and judge. (According to a TMZ poll, 55 percent are going with fake. There have been 145,000 votes cast.) Brooklyn Decker weighed in ("they're real and they're spectacular"). On Wednesday, there was a video of of Andrews doing the "Ice Ice Baby" dance with Vanilla Ice.
Erin Andrews's contract is up in two weeks, and stories like these have a way of popping up around contract time. They are useful leaks, wherever they originate—helpful reminders to an employer (or a future employer!) that you're relevant, a star, someone worth writing about and photographing and voting for in online breast-augmentation polls.
So what's happening with Andrews? Not much, one source tells us. As in: There seem to be zero takers, outside of ESPN. At the very least, she's being pursued way less aggressively than either Beadle or Scott Van Pelt were.
"No, I'd never hire her," said one rival TV sports executive whom we cold-called.
Why not?
"She can't host. There's no next step," the exec said. "And she wants more than sideline reporting, but there's no next step."
We asked if Andrews's name showing up in Big Headlines over the last few years had somehow made her radioactive.