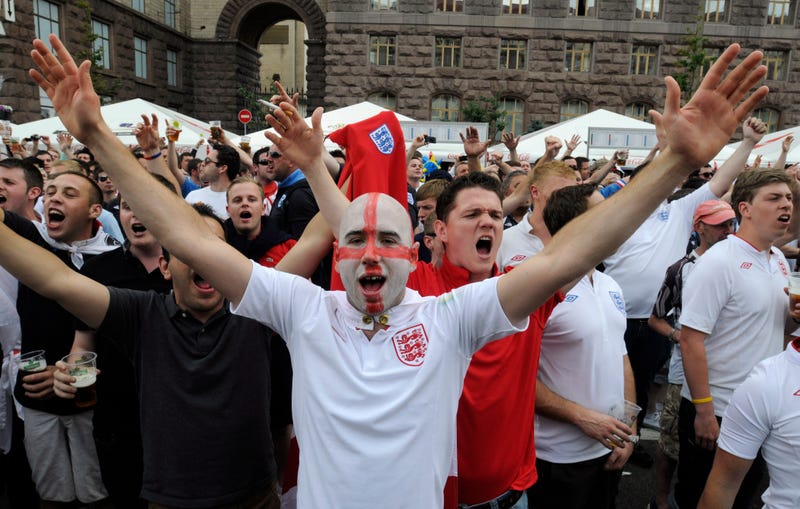 KIEV, Ukraine—The English did not come to Kiev in droves. According to a few of them who milled about before the match with Sweden, their countrymen stayed away for two reasons: 1) The fear of racism and violence, fueled by the BBC's sensationalist Stadiums of Hate documentary, and 2) an unflinching belief that this English team is terrible, one of the worst ones in years.
Expectations are low, the potential danger meter high, and the fair-weather fans (the vast majority of England) stayed home, all the better to be surrounded by like-minded grousers. The English supporters' march to the stadium was just sad: 100 or so fans, at least as many police officers, and a woman wearing a Ukrainian flag bringing up the rear. A low point for hooliganism.
(That said, the English fans who are here offer excellent insults. To the Swedes, a friendly "You're tall, but your cocks are small.")
But by the time England beat Sweden 3-2—a result that left the Three Lions a draw away from advancing to the knockout stage of Euro 2012 and the Swedes out of contention—security at Kiev Olympic Stadium stood two deep and shoulder-to-shoulder facing four sections of rowdy red-and-white-clad supporters. Throughout the second half, the powers that be repeatedly deployed reinforcements, 20 at a time. What started at kickoff as 10 men and women in florescent vests swelled to 150, and every body was needed. When England scored, which they did on Theo Walcott's deflected strike and Danny Welbeck's wondergoal, the sea breached the stand as dozens of men (only men, always men) jumped down to the no-man's-land track surrounding the field. Stadium security pushed them back, gently at first, more forcefully as the match progressed, desperately attempting to contain the chaos. The occasional fan breaching the human barrier was tackled by a second layer of defense, grabbed by the arms and legs, and bundled back to his peers in the stands. The moat held.