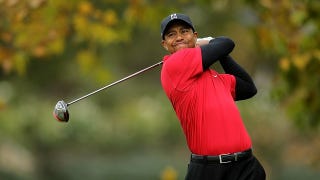 Through the first two rounds of the U.S. Open at Olympic, Tiger Woods looked a lot like the Tiger Woods we saw at Torrey Pines in 2008, when he beat Rocco Mediate in a full-round Monday playoff despite a double stress-fracture in his left tibia.* That was also Tiger's last major championship. By nightfall on Friday, it looked like Tiger might finally get one step closer to breaking Jack Nicklaus's record for career majors.
Thursday was a good day for Tiger. He shot a one-under 69, including birdies on Nos. 4 and 5. There was much discussion about how the first six holes at Olympic might have been the hardest stretch in U.S. Open history. No matter: Tiger had walked to the seventh tee at one-under. He then played the back nine at even par and found himself in a tie for second place.
After shooting an even-par 70 on Friday, Tiger had a share of the 36-hole lead heading into the weekend. It was a position he'd been in many times before at major championships, and the story was usually the same: The old Tiger would stalk his prey on Thursday and Friday, pounce on Saturday, and simply eviscerate the competition on Sunday. Before 2009, Tiger's customary Sunday red shirt was less an homage to his days with Stanford Cardinal as it was a signal to the rest of the field that he was out for blood.
But this is the post-2009 Tiger; he's simply not the same player he was before the knee injury and those, um, personal failings. He seems to have recovered physically, though. On Thursday and Friday he was striking his irons well (70 percent greens in regulation) and was playing well off the tee (78 percent fairways hit).