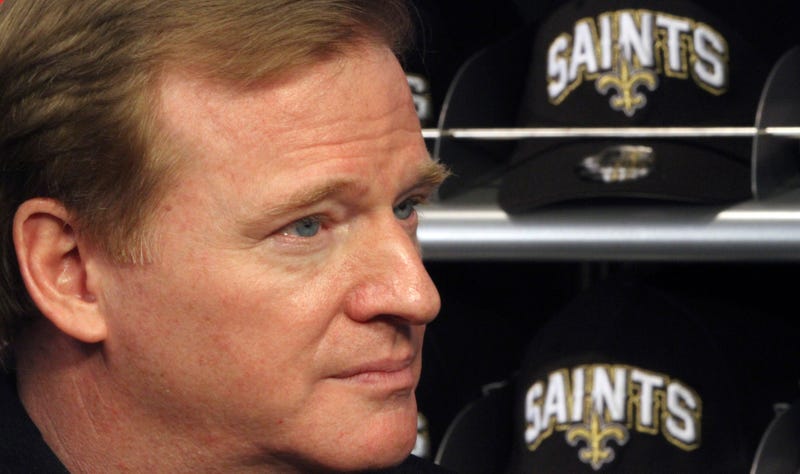 Leave it to Drew Brees, nominally uninvolved in the Saints bounty scandal, yet a possible target for retribution, and simultaneously embroiled in his own cash controversy. Brees sent out a tweet last night that captured all the mistrust and hyperbole and amateur lawyering coming from all sides over these busy months of Bountygate:
If NFL fans were told there were "weapons of mass destruction" enough times, they'd believe it. But what happens when you don't find any????
Brees is referring to the NFL's evidence that the Saints ran a bounty pool that rewarded hard hits and injuries to opposing players. Or maybe "evidence," in quotes, depending on how close to the mouth of the Mississippi you live or how little you believe anything the NFL has to say. And the NFL's done itself no favors with a secretive military-type tribunal, acting as investigator, judge, and jailer, relying on public outrage and lapdog reporters to keep too many questions from being asked.
When the news broke, we were all guilty of assuming an open-and-shut case. It broke on a Friday afternoon, traditional dumping time for bad news, and came directly from the NFL. They claimed they had undertaken a two-year investigation. They claimed they had 50,000 pages of documents. There was no way they'd go out on a limb, not with so much at stake, not on a story that makes the NFL look bad at a time player safety concerns are mounting.
But people ask questions. Saints fans feel their team is being unfairly persecuted, and Saints players are understandably furious about their fines and suspensions. If the NFL was so sure of its case, the best thing to do would have been to throw all the evidence out there, and let the massive torrent of public opinion squash any defenses. What have they done instead? Let their evidence trickle out like urine squeezing past a prostate the size of a football helmet. How many of those 50,000 pages have they willingly released? Zero. A little to a player's lawyer here, a little to the media there.
It's not that there's no evidence. Here's some freaking evidence. Handwritten notes marking how much cash players earned from knocking opponents out of the game. Emails from a convicted felon putting him down for another $5000. A running tally of "Kill the Head" hits. A photo of money, for god's sake, before a slide urging players to collect their bounties like Dog the Bounty Hunter. This is legit evidence, so shut up, Saints fans.