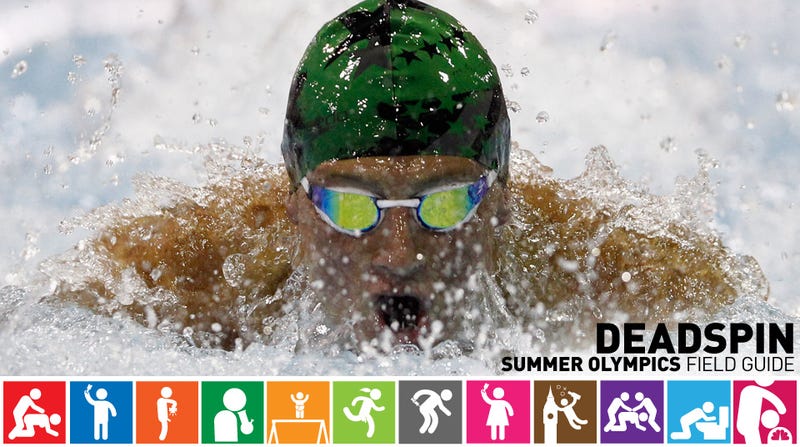 Name: Ryan Lochte
Sport: Swimming
Hometown: Born in Canandaigua, N.Y., raised in Florida.
Age: 27
Why you should care about him: Oh, you don't really have a choice. This spring he's been everywhere: the cover of Vogue, commercials for Gatorade, Gillette and Ralph Lauren, New York Times and ESPN profiles, hawking t-shirts and glasses on his website, and generally revving up to claim the fleeting stardom that accrues to a few Olympians every cycle. An ad exec said Lochte's appeal is "through the roof." Another said he's "the rock star of the swimming community." He apparently has a personality "wired to star in a Red Bull commercial," which, in context, was meant as a compliment. This summer he'll be even everywhere-er; the only man standing in Lochte's way, professionally and endorsement-wise, was Michael Phelps, and Phelps is passé. Said the same ad exec from above, "We're a little Phelps'd out." One way or another, a small army of people are making sure Ryan Lochte gets exposed to the public, and then probably overexposed to the public. If anyone is hosting SNL off this year's games, it's Lochte.
So, before the deluge, here are your talking points: Lochte and Phelps have a "rivalry," though they're also "good friends"; he's totally, like, a laid-back surfer dude, except when he's totally, like, fixated on winning gold medals; he just wants to live a normal life, but he has to do a lot of cell phone commercials because that "is how superstar Olympians get paid"—and sometimes he "kind of" enjoys them; his coach called him an "airhead," but W Magazine thinks he's just "preternaturally chill"; he wore a diamond grill on the podium at the 2011 world championships, possibly because he's "interested in fashion," which could also account for the 130 pairs of sneakers he owns; he's a lovable goof, which you can tell because he drew and then tweeted this picture of a ... mushroom or something, and because he has a "catchphrase," though apparently it's the same as Young Jeezy's catchphrase, and even that catchphrase was just "yeah." Gotta work on your catchphrase, bro! Nevertheless: the ladies love him, America's leering advertising executives love him, and if you open your heart, you may just love him too.
Olympics/world championship experience: Lochte has competed in every annual world championship since 2004. In that time he's racked up 23 golds—nine in team relay events—along with seven silvers and six bronzes. At the 2004 Olympics he won a team gold, helping upset Australia in the freestyle relay, and an individual silver. At the 2008 Olympics in Beijing, Lochte won another team gold, along with an individual gold in the 200m backstroke, and a couple of bronzes in the 400m individual medley and the 200m individual medley.
Sexy pose threat level:

Lochte may be posing sexily somewhere right now.
Previous sexy poses: