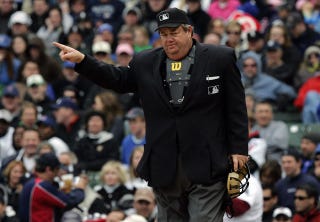 Welcome to Better Know An Umpire, an effort to educate ourselves on the human elements who have ultimate decision-making power over some 2,500 Major League Baseball games a year. (All cumulative statistics are through the 2011 season, unless otherwise stated.)
Name: Joe West
Uniform number: 22 (crew chief)
Age: 59
Height/weight: 6-foot-1, 275 pounds
First year as MLB umpire: 1976
Total MLB games worked through 2011: 4,314 (home plate: 1,088)
Previous experience: Carolina League, Southern League, American Association, Puerto Rican Winter League
Career ejections: 147
No-hitters called: One (Clay Buchholz, 2007)
Over/under record (1999-2011): 192-171
Hated in: Every single MLB clubhouse
Notable alleged blown calls: Mets-Braves, May 9, 1984; Yankees-Tigers, April 27, 2012; Phillies-Marlins, September 4, 2011 Angels-Tigers, July 5, 2011; Padres-Diamondbacks, May 17, 2011; Dodgers-Angels, June 12, 2012; and many, many more.
Claim to fame: Worked his first MLB game in 1976 at the age of 23. In 1981, West was 28 when he worked the NLCS, the youngest to ever so do. Additionally, West's tenure has spanned five of the nine MLB commissioners in the history of the game.
West's career has included many notable moments. He once ejected two cameramen from Shea Stadium when they showed a replay to some inside the Mets dugout (including future manager Bobby Valentine). He was the home plate umpire when Orel Hershiser set the all-time scoreless innings mark. He ejected Dodgers pitcher Jay Howell for cheating in the 1988 NLCS. He was the home plate umpire when Jamie Moyer became the oldest pitcher to ever win a game. He's seen Albert Pujols' 400th home run, Nolan Ryan's fifth no-hitter, the first playoff game in Canada, the first World Series game in Canada, Shawn Green's four-home run game, Dwight Gooden's debut, Greg Maddux's debut, Kent Mercker's 1994 no-hitter, Pete Rose set the National League consecutive games hit streak, and the deciding Game 6 of the 2009 World Series, to name a few.