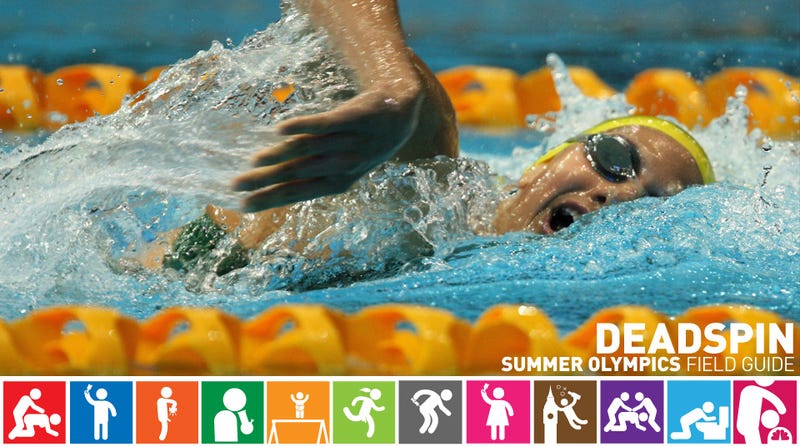 Name: Stephanie Rice
Sport: Swimming
Hometown: Brisbane, Australia
Age: 24
Why you should care about her: A recent study found that Rice is Australia's most popular and recognizable Olympian. That might have less to do with her success in the pool, and more to do with the fact that she is an attractive young woman who likes to tweet photos of herself in bathing suits, but that's neither here nor there.
The Aussies appear to have forgiven Rice for a 2010 incident which led to Jaguar ending their relationship with her and requesting that she return a Jaguar XF that the company had given her. Rice found herself in hot water when she tweeted "Suck on that faggots!" after Australia beat South Africa in a rugby match. "She is an idiot ... and anyone who continues to endorse her as an athlete is an idiot as well," said Ian Roberts, a gay former rugby player. Rice later made a tearful apology.
Rice will attempt to match her sterling 2008 showing in London this year. That is no small feat, though, considering she had shoulder surgery in December to attempt to repair a torn tendon. Doctors were unable to fix the tear, so Rice was forced to attempt to rehab the injury. The shoulder held up well enough for her to qualify back in March, but Rice said in May that it was still giving her trouble. She also tweeted a picture on June 12 of herself receiving acupuncture treatment and icing the shoulder. Winning multiple medals in spite of her injury would be a truly remarkable accomplishment for Rice.
Olympic/world championships experience: Rice won three gold medals at the 2008 Olympics in Beijing, in the 200-meter and 400-meter individual medleys as well as the 4x200 freestyle relay. She had two bronzes and a fifth at the 2011 world championships.
Sexy-pose threat level:
Previous sexy poses:

Olympic archetype: Amanda Beard