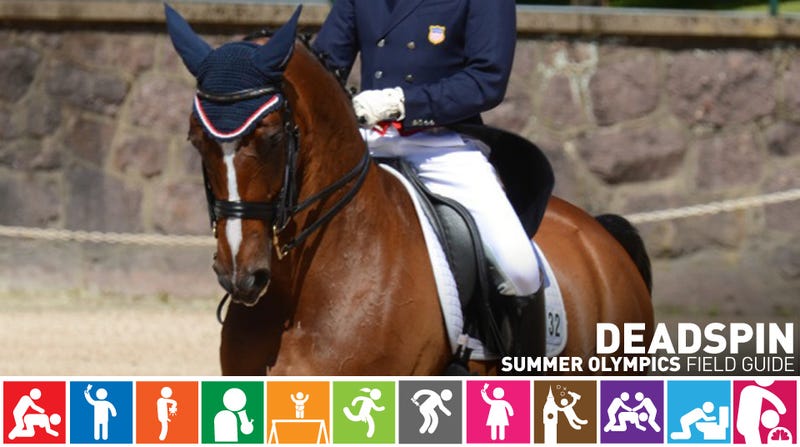 Name: Rafalca
Sport: Dressage, in which a horse—ridden by someone in funny clothes—must complete a series of choreographed movements based on physical cues the rider gives. It has been referred to as "horse ballet," and it is definitely just for rich people. But it has made possible YouTube videos like this one, though, so that's nice.
Hometown: Moorpark, Calif.
Age: 15
Why you should care about her: One of Rafalca's owners is Ann Romney, wife of presidential candidate Mitt Romney. If Romney becomes the next president, Rafalca will become the nation's First Horse. She would join a long line of notable First Horses, including: President Zachary Taylor's horse, Old Whitey, George Washington's horse, Nelson, who was nicknamed "Old Onzie" for unknown reasons, and President John Tyler's trusty steed, who was known as The General.
But no one wants to talk about the kind of First Horse Rafalca could be, or the kind of Olympic horse she is now. Most everyone wants to hold her up as a political prop, an example of how the Romneys are obscenely wealthy and blissfully out-of-touch.
Feeding and stabling her, to be fair, costs a fucking fortune. Last year, the Romneys declared a $77,000 loss due to expenses related to owning and caring for the horse, and they only have a third of the ownership share. The Romneys spent more on the horse's healthcare than the average American family spends on its. The Colbert Report and the Democratic National Committee both poked fun at the horse.
This isn't fair to Rafalca, who had no control over who would own her. (Had she been able to choose, maybe she would have chosen differently.)