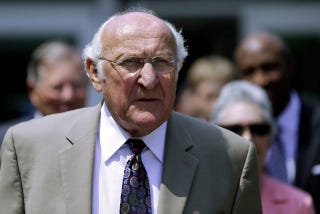 It's hard to believe that in all the months since the Sandusky scandal broke, and amid all the calls for accountability among Penn State's leadership, that not one member of the university's Board of Trustees had resigned. Now, there comes word from Happy Valley that Steve Garban, who was board president in 2010 and 2011, when everything surrounding this scandal finally came to light, has stepped down after 14 years as a university trustee.
In a letter sent today to chairman Karen Peetz, Garban laid out his reasons for stepping down at this time:
These past months have been some of the most painful of my life. The horrific allegations that came to light in November have haunted us all, but nothing we have experienced compares to that of Jerry Sandusky's victims. My thoughts and prayers will remain with them always.

After absorbing the findings of the Freeh Report last week, the Board of Trustees accepted responsibility for the failures of governance that took place on our watch. Following the release of the report, you also asked each member of the Board to evaluate our individual paths forward.

It is clear to me that my presence on the Board has become a distraction and an impediment to your efforts to move forward and continue the Board's most important work: ensuring that Penn State remains a top choice for students, faculty and employers; strengthening the University's position as a globally‐recognized leader in teaching, research and service; and a serving as a national example of public higher education at its finest.

I had not planned to run again when my term expires next year, but I now feel it is best for the Board and the University that I submit my resignation from the Penn State Board of Trustees, effective immediately. This is not a decision I have come to lightly. It is a decision that is my own.
Why now? Chances are it has something to do with an ESPN.com report published two days ago, which outlined how certain board members, led by former Penn State president Graham Spanier, did not go ahead with a full vote that would've given greater oversight and Spanier, Joe Paterno, and other high-ranking university officials. And one particular passage from the investigation, conducted by former New York Times reporter Don Van Natta Jr., is now especially telling, in light of Garban's exit: