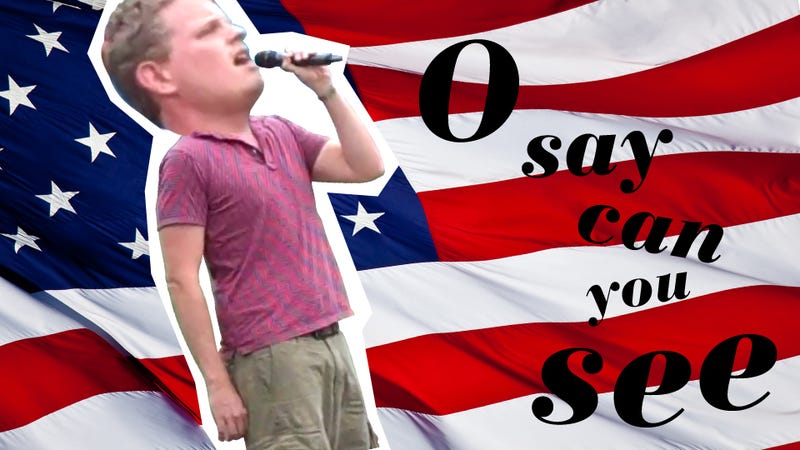 When I was a kid, I used to sing in the school choir. We had recitals for parents and teachers, and for the recitals we'd have to dress up in chinos and dress shirts, and the music teacher would arrange us along a set of risers, with all the tall boys in back and all the short girls in the front, our feet pointed toward the center. For an hour, we'd subject the audience to seventh-grade renditions of all kinds of horrible shit—from classical pieces to Disney showtunes to Motown to then-contemporary hits, including "Hungry Eyes" by Eric Carmen. That last one was our teacher's idea. None of us supported it.
Anyway, some of these songs required the occasional vocal solo, which our music teacher handed out pretty much at random. Solos were a big fucking deal. If you got one, that was your chance in the spotlight. There could be a record company executive who might just happen to stroll by the Nelson Auditorium and hear you nail that verse to "Under the Sea" and then decide to sign you to a nine-figure record deal. That kind of thing seems realistic to a middle schooler, because middle schoolers are idiots.
I got one of these solos and I was shit-your-pants excited over it, only I didn't tell anyone I was excited about it because I was one of those kids who didn't want to be seen as liking choir because one of my friends said that liking choir "was for homos". But I was excited. I was gonna SING! And everyone was gonna hear it and OH SWEET JESUS EVERYONE IS GONNA HEAR IT WHAT HAVE I DONE?!
I remember the build-up to my solo. I remember standing there, singing along with everyone, waiting for my solo moment, and being horrified at the thought that maybe my mouth wouldn't open, or that maybe I would open my mouth and vomit would come flying out. It was an utterly terrifying moment, and I never thought I would experience that sensation ever again. Until last Sunday.
* * *
Like referees and offensive linemen, people usually only notice national anthem performers when they fuck up. Whitney Houston and Jimi Hendrix aside, I can't name a memorably good rendition of the anthem off the top of my head. All I remember are the same butcherings of the anthem that you remember: Roseanne, Carl Lewis, that little girl who needed help from Maurice Cheeks at that one Trail Blazers game, etc. The anthem is a rote exercise in sports fandom. You go to the stadium, you take your piss, you get your beer, and if you miss the anthem, you don't give a shit. And if you catch the anthem, well then you're probably spending it checking out boobies in the stands or staring at the players as they stare off into space. Everyone has heard the anthem. Every famous singer has sung it. It's difficult to do anything new and exciting with the anthem, unless you happen to be ruining it.
Drew Magary writes for Deadspin and Gawker. He's also a correspondent for GQ. Follow him on Twitter @drewmagary and email him at drew@deadspin.com.
But if you're the person singing the anthem (particularly someone young or someone undiscovered), that moment is a big fucking deal. It's an indelible moment of your existence, and that's true for you and only you. The other 10,000 people in attendance couldn't give a shit if you did a good job. They'll only care if you destroy it, and that fact is what causes many anthem singers to scream silently in mortal terror. Oddball that I am, I wanted to know what that fear felt like, so I asked around to see if anyone would let me sing the anthem for a crowd. I promised I would remember the lyrics and that I would be on key. I sent a demo to the Washington Nationals, and they didn't respond. I drove to Richmond to try to sing the anthem for an arena football team. The problem is that the arena team played outside, and there was a thunderstorm that day. Who plays arena football outside? ASSHOLES, that's who.