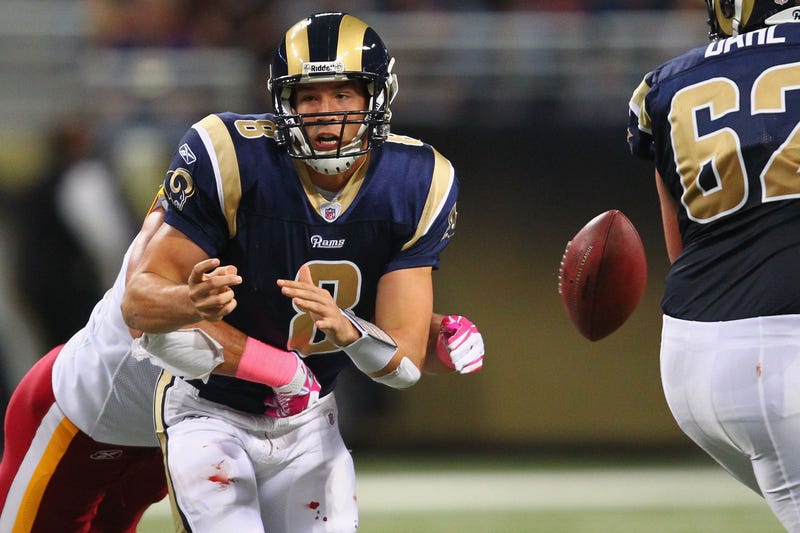 Some people are fans of the St. Louis Rams. But many, many more people are NOT fans of the St. Louis Rams. This 2012 Deadspin NFL team preview is for those in the latter group. Read the other Why Your Team Sucks 2012 previews here.
1. The Rams are the WNBA team of the NFL. Outside of the Staph Infection R&D Lab that is the Cleveland Browns, there isn't a worse team in football at keeping players healthy than the Rams. A Rams player is 50% more likely than any other NFL player to break his arm WHILE tearing his ACL. They didn't need a new coach. They needed a fucking trainer.
Because Sam Bradford could very well die this season. I think it's very nice that the Rams managed to fleece Dan Snyder and the Shanahans for three first rounders. That's what the Redskins are there for. But the Rams had one of the shittiest o-lines in football last season, and they only spent one measly fifth round pick on a linemen in the draft. Bradford was sacked an average of three-and-a-half times a game last season, and the only thing the Rams did to fix the problem was sign center Scott Wells away from the Packers. That's not enough. By Week 6, Bradford will have his clavicle broken in fourteen different places and it'll be Kellen Clemens time. Because who the fuck is Bradford gonna throw to? Steve Smith? Steve Smith is a bucket of ass. And anyone who tells me that Lance Kendricks could be a sleeper at TE this season should be forced to drink hydrochloric acid. I've done the whole "draft Kendricks late because you think he's a sleeper" thing. It doesn't work. This is arguably the worst roster in football.
Drew Magary writes for Deadspin and Gawker. He's also a correspondent for GQ. Follow him on Twitter @drewmagary and email him at drew@deadspin.com.
2. They still don't have a defensive coordinator. Now that Greggggg Williams has been suspended for 500 years, who will help Rams pit crew chief Jeff Fisher craft bizarre Powerpoint slides that look like Whitlock's Twitter page? I think you Rams fans will be heartened to know that the answer is... like, whatever: