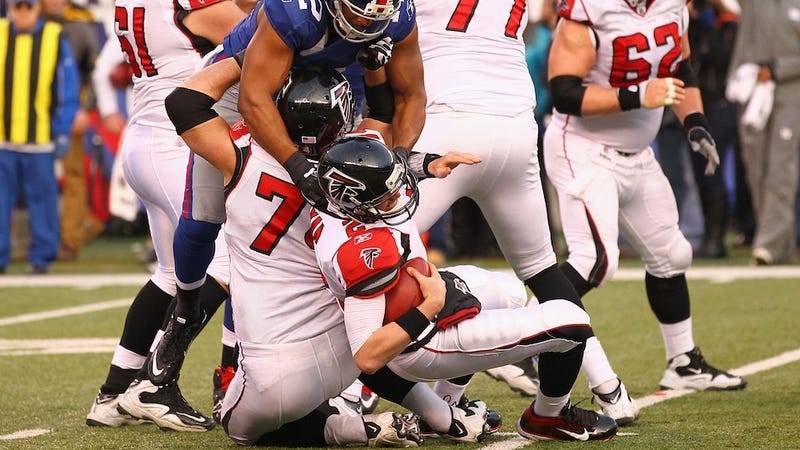 Some people are fans of the Atlanta Falcons. But many, many more people are NOT fans of the Atlanta Falcons. This 2012 Deadspin NFL team preview is for those in the latter group. Read the other Why Your Team Sucks 2012 previews here.
1. GO BARVES. Right up until 2005, you could count on the Atlanta Braves to annually waste a playoff spot. They'd win their division, march into the playoffs, and then immediately be escorted out of those playoffs, putting up all the resistance of wet toilet paper. That's the Falcons now. The Falcons have taken up the Braves' quest to be the least effective good team in their respective sport. Maybe they'll win 10 games this year, but does anyone expect this team to actually DO anything once it reaches the postseason? FUCK AND NO. They've lost their last two playoff games by a combined score of 72-23. You may as well just have five teams in the NFC playoff field. Any team playing them in the wild card round in January may as well write BYE on the fucking schedule. If the Falcons end up preventing me from watching Cam Newton in a playoff game, I will buy a million copies of A Man In Full, hollow them out, take a shit in them, and mail one to every Falcons fan. Because you do not DESERVE the playoffs, especially ever since...
2. The goddamn 1998-99 NFC title game. I'm a Vikings fan, and so I am biased. That said, FUCK YOU O.J. SANTIAGO GAHHHHHHHH I HATE YOU I HATE YOU I HATE YOU FOREVER AND EVER. No one wanted you people in the Super Bowl that year! NO ONE DENIES THIS! You ruined everything! You and Chris Chandler and Jamal Anderson and Dan Reeves's decayed left ventricle... YOU ARE THE ENEMIES OF HISTORY. You robbed Cris Carter of his one shot at a title! You robbed Randall Cunningham of his greatest triumph! YOU STOLE MY INNOCENCE! If I could go back in time, I'd make sure Gary Anderson made that kick. I wouldn't even kill Hitler first. I'd let Hitler LIVE, just because I'm so bitter and selfish and despise you so very, very much.
3. There's something not quite right about Matt Ryan. Maybe it's the fact that his head coach is prone to going for it on fourth-and-1 from his own 29 in overtime. Maybe it's the fact that there are too many other, better QBs in the NFC. Maybe it's the fact that he kinda has a little beer gut. All I know is that Matt Ryan isn't the top-tier quarterback that the Falcons so desperately present him as being. They brought in Julio Jones last spring so that Ryan would claim the elusive "elite passer" label and he failed. He's a fraudulent superstar (like Ryan Reynolds!), someone who's very good at his job, but clearly not the best in the world at it. He's not as good as Aaron Rodgers, or Drew Brees, or Eli Manning. And now that Michael Turner is on his last legs, the Falcons will try even harder to make Ryan their centerpiece, to push him as the Hall of Fame-caliber player he'll never become. I wouldn't be surprised if GM Tom Dimitroff took a moment off from dazzling Peter King with his CNN viewing habits to stitch the name MANNING across the back of Ryan's jersey.
Drew Magary writes for Deadspin and Gawker. He's also a correspondent for GQ. Follow him on Twitter @drewmagary and email him at drew@deadspin.com.
4. This is the year Julio Jones and Roddy White finally have their gang war! Never forget Gregg Easterbrook's trenchant analysis: