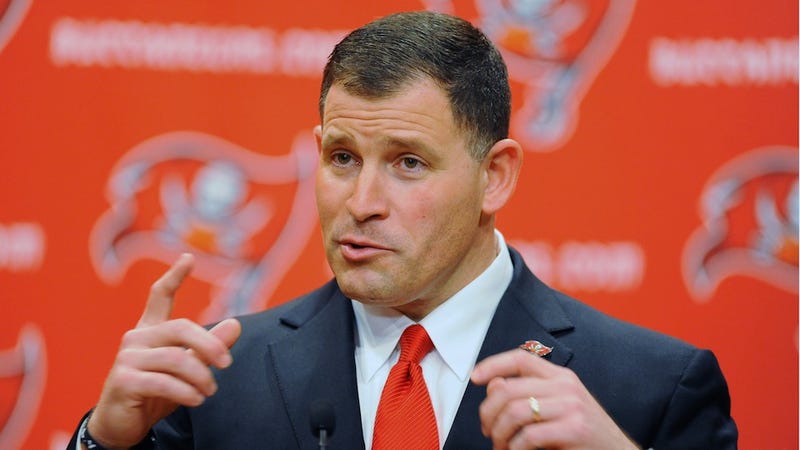 Some people are fans of the Tampa Bay Bucs. But many, many more people are NOT fans of the Tampa Bay Bucs. This 2012 Deadspin NFL team preview is for those in the latter group. Read the other Why Your Team Sucks 2012 previews here.
1. Greg Schiano is a WEASELLY WEASEL GLORY BOYYYY COACH. I'm not particularly concerned that Greg Schiano supposedly screwed over all the Rutgers players he left behind. That's what college coaches do. What I find far more alarming is that there was still an NFL franchise out there stupid enough to bring in a college coach. And not even a GREAT college football coach. The scary thing is that Greg Schiano doesn't have anything close to the kind of resume of past college-to-pro flaming shitwrecks like Steve Spurrier, Bobby Petrino, and Lou Holtz. He has a career record of 68-67. He had one truly great season—2006—in which Rutgers went 11-2 and everyone went, "Awwww, so cute! Rutgers thinks it's a big boy school!" I would have understood if a pro team had felt compelled to lure Schiano away THEN.
But that was six years ago. In the five seasons since, Schiano has averaged a little more than seven wins a season playing in the shittiest conference imaginable. Only an organization as lost as the Bucs would be like: "Hey! That Schiano's still a hot ticket!" They wanted Chip Kelly and they got his nonunion Mexican equivalent instead. To make matters worse, they're already throwing around the dreaded D-word in camp:
[GM Mark] Dominik cleaned house and [...] found a no-nonsense disciplinarian who would no doubt get the young Buccaneers into shape in 2012. [...] You're either with Schiano's program or you're not. And if you're not, you won't be wearing the pewter and black this season.
Oh God, that's always the first sign of DEATH. There's nothing worse than some redass college coach strolling into a pro locker room and being like DURRRR I'M THE NEW SHERIFF IN TOWN DURRRR GIMME 50 PUSHUPS HARDCORE. And then the media latch onto the whole "disciplinarian" angle and yammer on and on about how things are totally different this time, and that the Bucs mean business. That routine sticks for roughly three weeks before open mutiny is declared and half the roster starts leaking stories to the press about Schiano being a petty, controlling dickhead. He's fucking doomed. Aqib Talib will pull a gun on him by October.
2. Vincent Jackson is your new Alvin Harper. I've made my opinion on Vincent Jackson clear in the past, but to reiterate: HE IS A PIECE OF SHIT. Congratulations, Bucs. You just shelled out $26 million in guaranteed money to a guy who has 74 catches in the past two seasons. Vincent Jackson has waited two full years to get himself a fat contract so that he can go directly into the shitter, and the Bucs gave it to him. No one is better at leaving a game in the first quarter with a tender hamstring than Vincent Jackson. And now he won't even have Marmalard around to inflate his numbers. I hate him. HATE HIM.