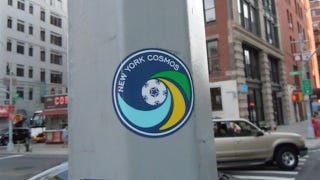 Top-level soccer hasn't been played within New York's city limits since 1976, when the Cosmos packed up for Giants Stadium and took the country's brief love affair with domestic pro soccer with them. The drought might be close to over, as MLS and local politicians seem intent on returning a team to New York, with a brand new $300 million stadium plopped down right in the true soccer heart of the city.
The Wall Street Journal wrote back in June that Major League Soccer had presented detailed plans for a new stadium to rise in the middle of Flushing Meadows Corona Park, in the far reaches of Queens, close to Citi Field and Arthur Ashe Stadium. The Post reported yesterday that a deal on the project is "close to being wrapped up," and Bloomberg adds encouraging quotes from the governor's and mayor's offices.
Corona Park is a massive slice of green that bisects two immigrant-rich neighborhoods, and on any given weekend its fields play host to scores of organized matches replete with uniforms, officials, and a level of play that makes it the soccer equivalent of Rucker Park or The Cage. A 25,000-seater stadium would mean lots of these fields being torn up, a major sacrifice for soccer in the city. Any deal with the city would require developers to add an equivalent amount of parkland, though you know how these things go: it'll be added somewhere on the inaccessible periphery, or ignored altogether. Actual participants out, spectators—and their money—in. But that's the way of modern stadia.
The arena would be privately financed, but who has that sort of money? Try some Middle Eastern billionaires.
From the moment the New York Cosmos announced their reformation in 2010, it's been treated as a given that the club would find its way back to MLS if it could get its finances together. In the meantime, they've struck a deal to join the second-tier NASL, starting play in 2013 with their home stadium on Hofstra's Long Island campus. But MLS's intention to add a second team to the New York area, after the moderate success of Chivas USA in Los Angeles, has long been a matter of faith.
These Cosmos may not be the spiritual descendants of the star-packed team that captured the country in the '70s, despite honorary positions for Pelé, Shep Messing, and Carlos Alberto. But they are the legal heirs. All rights to the Cosmos name were preserved by G. Peppe Pinton, the team's last general manager, who continued to operate youth clubs under the name. In late 2009, Pinton sold the rights to Paul Kemsley, a former Tottenham exec, but his ownership group couldn't successfully raise the funds to make a serious run at entering MLS. He was forced out in a messy divorce that involved lawsuits against him from all sides, and controlling shares in the franchise were sold again. This time to Saudi Arabian consortium Sela Sport, which could explain the unidentified Emirati high roller who is reported to be leading the charge to claim Queens. There's your $300 million.