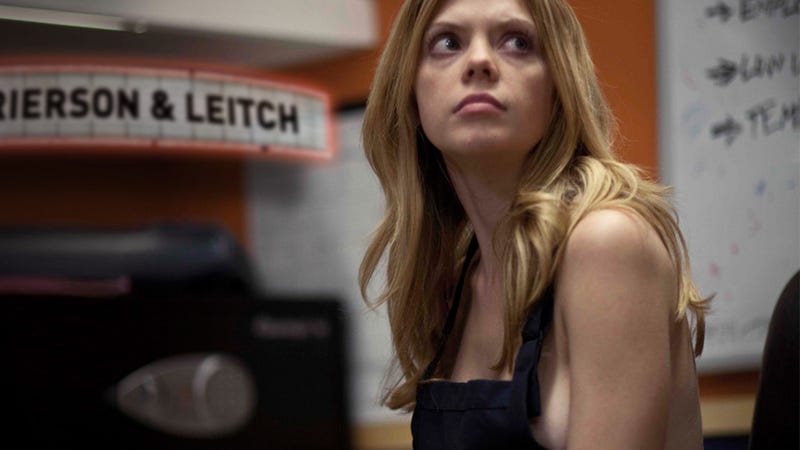 Compliance, which opens Friday, was one of the most debated movies at the 2012 Sundance Film Festival. Starring Dreama Walker (now better known for Don't Trust the B—— in Apartment 23) and written and directed by Craig Zobel, it's a psychological thriller about an Ohio fast-food joint that becomes the target of a prank phone call from a stranger posing as a police officer. It was polarizing at Sundance—some hailed it a masterpiece, while others yelled at the filmmaker after its first screening—and, as it turns out, it was just as polarizing for Grierson & Leitch. Tim thinks it's brilliant; Will finds it redundant and obtuse. Thus, a Grierson & Leitch Conversation: Compliance. Warning: This conversation will contain slight spoilers (and is also long, but you're used to that by now).
Grierson
One of the tenets of David Mamet's con movies is that they feature characters who assume they're too smart to be suckered by a scam—which, like in real life, is exactly why they're such marks. Whether it's married couples losing their retirement savings because of shady investment bankers or children being preyed on by online sexual predators, people become unwitting victims because they simply don't believe that anything bad could happen to them. When we read such stories, part of us always insists that we'd never be so foolish to make a similar mistake—but perhaps another part of us worries that, with the right set of circumstances, we might have been just as gullible.
Compliance examines that exact dilemma, telling the story of how a middle-aged fast-food manager (Ann Dowd), her pretty young employee (Walker), and some of their coworkers fall for a prank that, on its face, seems so obvious that it might be hard to understand how these people could be so stupid. But what makes Craig Zobel's film so compelling is that he shows in almost real time exactly how intelligent people can sleepwalk into a nightmare simply because of a misplaced trust in authority.
Though the movie is inspired in part by true events, Compliance's clinical dissection of the prank's fallout doesn't need to rely on those real stories to earn its unsettling power. That comes from the actors, who play "regular" people (i.e. Midwesterners) without a lick of condescension. Even after watching the movie a second time and knowing all the twists, I was struck by just how believably, touchingly human these characters are and how easy it is to sympathize with them, even though they're making a terrible mistake by obeying the alleged police officer on the phone.
Compliance touches on many topics—gender roles, post-9/11 paranoia, our willingness to acquiesce to those in power—but it's also about the way we reveal our true nature during a crisis. That's why the film's seemingly humdrum introduction to its characters is so vital: All the picayune resentments and power dynamics on display will become very important once the prank begins. Some of the characters in Compliance can feel proud about the way they acted. Others can't. What's frightening watching the movie is that none of us can say for sure how we'd behave in the exact same situation.
Leitch
One thing we should be clear about here is how good all the actors are, particularly Ann Dowd as the manager of the fast-food place and the one who's definitely the most compliant. They're all believably and whole-heartedly inhabiting these characters, and I agree, there's no condescension, though I never understand why movies get so much credit for that in the first place. The movie also looks fantastic and is expertly paced; I think I want Zobel to direct an episode of Breaking Bad.
But your and my disagreement on this movie comes down to one thing: I just don't buy it. Maybe this makes me one of the ideal cons in a Mamet movie, but outside of the first five minutes of the prank phone call, there just isn't a moment when I ever understood why not a single person thinks to ask, "Hey, are you a real cop?" I know, I know, based on true stories, I get it: I'm saying that under the circumstances portrayed in this movie, there's just no way. It is one thing to say that people trust authority too much. It is quite another to say, "This man on the phone who says he's a cop says you have to blow this guy so, well, you have to." And then she does! There is perhaps a real-world situation where this could happen, though I don't personally understand it. But it is not the situation in this movie.
I also think it was a strange decision to ultimately let us see the guy who is playing this prank. The movie makes a big deal out of the fact that he seems to live in a normal house with a normal life but … so? Is this some sort of a polemic about acquiescence to authority, or just the lamest remake of Se7en ever? I think the movie's better if he's just a disembodied voice on the phone with no explanation and no backstory. I mean, who cares if they catch the guy? Is this a procedural all of a sudden?
But more to the point: I'm not sure the overarching point of this movie is nearly as relevant and important as Zobel thinks it is. Of all the times to make a movie about how people just blindly submit to authority, it seems particularly tin-eared to do it in an age in which so many of our established institutions—from government to finance to media—are so openly questioned and so distrusted. I think people are far more skeptical of authority figures than they've been at any other time—to our detriment, in a lot of ways. So, to sum up: I don't buy the thesis. And I don't buy the execution. So what else is there?
Grierson
There's a very simple reason why they don't ask him if he's really a cop: They believe that he is. This happens because Dowd is distracted with other worries when she initially picks up the phone. After talking to him, she hears enough details that convince her that he's legit, and so when she hands over the phone to other people, she always introduces him as a policeman, which creates an even stronger belief that he must be a policeman. There are moments when characters do question him, but Pat Healy (who plays the caller) is able to manipulate them through fear or cajoling—he's particularly good at preying on Dowd's need to be praised—that they eventually do give in to him. (As for the blowjob scene, which is certainly the most divisive moment in the film, what's so unnerving is that we actually don't know how that discussion comes about. It all happens offscreen, creating the possibility that maybe it's not the caller who put it into motion. Watching what happens right before, I think that's definitely a possibility.)
I think the introduction of Healy about halfway through is terrific. By that point, everyone in the audience knows what's going on, but they're wondering what this man's motives are. Thankfully, Zobel doesn't offer any concrete explanation. Personally, I was thrilled he didn't turn the caller into some sort of evil mastermind or pervy sexual weirdo. The fact that he's an anonymous regular guy makes it all the more upsetting: He's just a guy who likes screwing with people and seeing how much he can get his victims to do.
And I don't think that being aware that institutions are corrupt is the same as being willing to stand up to them. One reason why just about everyone in Compliance obeys the caller is because they're afraid what's going to happen to them if they don't. Because they believe he's a cop, they don't want to get in trouble. They're not acquiescing because they respect those in control—it's because they've been trained to fear authority and have been conditioned to know that there's nothing they can do anyway. (That's why the Progressive story is so alarming: The company figured no one would be assertive enough to raise any red flags.) Near the end of Compliance, Walker's explanation for why she goes along with everything that's done to her is so telling: "I just knew it was going to happen."