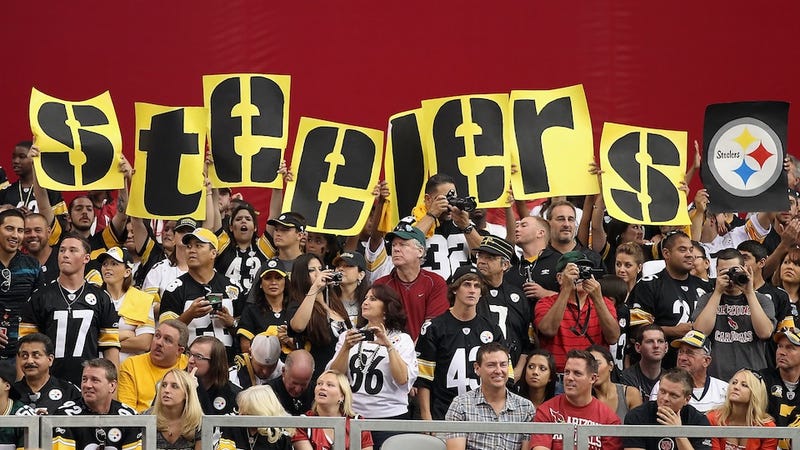 Some people are fans of the Pittsburgh Steelers. But many, many more people are NOT fans of the Pittsburgh Steelers. This 2012 Deadspin NFL team preview is for those in the latter group. Read the other Why Your Team Sucks 2012 previews here.
1. He's Todd Haley and you're not. I can't think of a better 1-2 asshole punch than Todd Haley working with Ben Roethlisberger. CBS should have an iso camera trained on Haley at all times that streams online, just so I can watch him mouth out curse words at my leisure. I can already see the sideline conversation between these two after every series:
HALEY: You see this? (twirls ball on index finger) This is a ball and I'm so fucking badass I can spin it on my finger for five seconds plus. YOUR ONE JOB IS TO GET RID OF THE FUCKING THING.
BIG BEN: HARF HARF BIG BEN JUST WANTS A PUSSY TO GRAB.
HALEY: You've got a fucking attitude, young man. WHY DON'T YOU POLISH MY CAMARO AND THINK ABOUT WHETHER OR NOT YOU WANT TO BE PART OF THIS TEAM?
I want these two to get into a sideline brawl so badly, I can taste it. Despite wisely spending a couple of draft choices on offensive linemen, this team still blows at pass protection. And so it'll be neat to watch Haley call for seven-step drops 40 times a game specifically because he thinks it could help toughen up his QB. I'm also excited for Haley to bench Mike Wallace after he ends his holdout. NO GLORY BOYS ON HIS OFFENSE.
2. HEY WE GO STEELERS, HERE WE GO (CLAP CLAP). Go to any Steelers bar and you will hear that chant—that breathtakingly dumb chant—on a loop for four straight hours. Last year, I found myself stuck in a New York Steelers bar and it was pure anguish. Hell on Earth. Watching football with Steelers fans make me want to not like football anymore. The place REEKED. Just this massive swarm of fat, sweaty bodies and day-glo orange fingernails soaked in wing sauce. Every Steelers fan smells like a beer someone farted in. And all they did was say that stupid fucking chant over and over again regardless of the situation. First down? HERE WE GO STEELERS. Big Ben fumbles? HERE WE GO STEELERS. They're like big fat robots. They had NOTHING else to say to each other. Just this collective mass of dead brain cells. And they're EVERYWHERE. They're in every city, and God they'll never let you forget it.