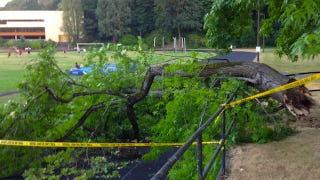 Poor Melany Crocker. According to The Oregonian, the 21-year-old rising senior at Linfield (Ore.) College was running at a local park Wednesday evening when the Sweetgum tree branch you see above came crashing down on her. Crocker is a sprinter on the Linfield track team. She was pinned to the ground and taken to a local hospital, where she had surgery on Thursday. KPTV reported that Crocker broke her pelvis in two places and broke her forearm. She was later listed in good condition.
Park officials initially didn't know what happened, according to The Oregonian:
Joan Hallquist, spokeswoman for Portland Parks & Rec, said the limb just cracked. It's not clear why. She said it could have been weakened by insects or was injured in some other way.
Hallquist later told KPTV that the heat caused the limb to break. Stupid trees. Just another reminder that jogging is the worst.